Faculty Conversations on the Transition and Capitol Siege Aftermath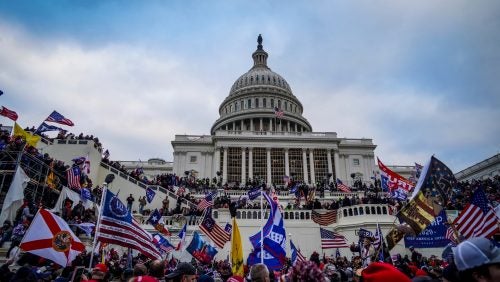 In a series of engaging one-on-one conversations, Georgetown Law faculty members are assessing the far-reaching implications of the January 6th attack on the U.S. Capitol. Topics include impeachment, race and extremism, policing, and technology and democracy.
Technology and Democracy after the "Great Deplatforming" (January 29)
Since Big Tech deplatformed a sitting president, the industry's power has only become more apparent. What are the key implications to consider, and what lines could be drawn in looming congressional debates over Section 230, antitrust reform and privacy? Watch Georgetown Law tech law & policy experts for a wide-ranging discussion on technology, speech and regulation in a democratic society.
Constitutional Priorities in the First 100 Days (January 27)
Two leading members of the Supreme Court bar, Neal Katyal and Paul Clement, have both led the U.S. Solicitor General's Office during past transitions.
Watch their conversation on how the new Biden administration may change government positions in pending Supreme Court cases, how the transition could impact the Court itself, and analysis of Trump's expected impeachment defense that a post-presidency trial is unconstitutional.
Lessons on Policing from the Capitol Siege (January 21)
Professors Vida Johnson and Christy Lopez discussed how political and racial bias shaped the law enforcement response on January 6, the impact on Inauguration Day, and the latest outlook for police transformation.
Race, Extremism & Accountability after the Capitol Siege (January 19)
Professors Paul Butler and Mary McCord are former prosecutors who are leading voices on racial justice and combating extremism in America. They discussed how white supremacy and other extremist beliefs fueled the insurrection at the Capitol, legal accountability and the path forward.
Constitutional Consequences: Impeachment and Congress after the Siege (January 15)
Professors Victoria Nourse and Josh Chafetz brought their deep expertise on Congress and the separation of powers to reflect on the recent events on Capitol Hill, President Trump's second impeachment, and where Congress goes from here.
This was the first of several conversations where faculty reflect on the Jan. 6 siege on the U.S. Capitol and discuss where our government and nation go from here.