Georgetown Law Celebrates Reunion Weekend 2019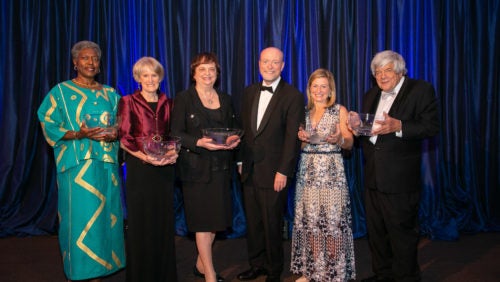 Georgetown Law does things right — including a record-breaking Reunion Weekend 2019 with more than 2000 alumni, faculty, staff, and guests attending from around the world. Among the highlights during the three days of festivities October 18 to 20 was the annual Reunion Gala at the National Building Museum, where five alumni were honored for their contributions to the community and to Georgetown Law.
New York Solicitor General Barbara Underwood (L'69, H'19) — who delivered the 2019 Commencement Address to Georgetown Law graduates in May of this year — received the Robert F. Drinan, S.J., Law Alumni Public Service Award, honoring Georgetown Law alumni whose careers enhance human dignity and advance justice.
Donald S. Burris (L'69), Devarieste Curry (L'84), Beth McCann (L'74), and Ann Beth Stebbins (C'86, L'94) were each honored with the Paul R. Dean Alumni Award. The Dean Awards, named after the Law Center's 10th dean, are given annually to recognize leadership to Georgetown Law and to the legal profession.
"The five distinguished alumni receiving awards this evening are true stars in the Georgetown Law firmament," said Georgetown Law Dean William M. Treanor, noting that in 2020, Georgetown Law will celebrate its 150th anniversary. "We embrace the Jesuit commitment of educating women and men for others…our students not only learn the law but how to apply it justly in the service of all… Georgetown Law is able to educate lawyers who go out and make a difference at the very highest levels, here and around the globe."
Trailblazing
Other highlights of the weekend included a mock version of television's "The People's Court" — with the show's real Judge, Marilyn Milian (L'84), presiding. Milian, a former Florida judge, has served as judge on the TV show since 2001; the first Latina to preside on a nationally syndicated court show. Professor Abbe Smith played the plaintiff and Professor Naomi Mezey played the defendant; the role of host and court reporter was played to perfection by Professor Paul Rothstein. The event was hosted by the Office of Alumni Affairs, the Latin American Law Students Association, Barristers Council and GEMALaw.
"Thank you for coming with a light heart and all the good humor with which this is intended," Mezey said.
Congressman Ted Lieu (L'94)(D.-Calif.) was introduced by Andrew Lee (L'22) at a reception for the Asian Pacific American Law Students Association. "Congressman Lieu is a trailblazing alum we are very proud to have representing our community…" Lee said. "He is truly a hero and role model for many in our generation."
Professor Steve Goldblatt (L'70), Professor Aderson François, and Adjunct Professor Dori Bernstein (LL.M.'89) hosted a presentation of this term's Supreme Court cases. Other events included a Women's Legal Alliance Luncheon, a Saturday picnic and a Sunday brunch hosted by the Black Law Students Association.
"As an alumna, I can personally attest to the bond we all share," Law Alumni Board Chair Katy Motiey (C'89, L'92) said at Saturday night's gala. "Our Georgetown Law education continues far longer than the years we spent in the classroom…while we are highlighting the accomplishments of five alumni this evening, we are also honoring each and every one of you for the diverse and important ways you represent Georgetown Law in each of your communities, careers, and everyday lives. Each of your individual successes strengthens Georgetown Law, and we salute you, so thank you for that." [Story continued after video, below.]
Meaningful Lives
Jewish Chaplain Michael Goldman (L'69) delivered the invocation at the Gala. Goldman's reunion class, 1969, won the participation prize for class giving (32 percent). The Class of 1989 gave the most in donations — a whopping $1,757,502. The class of the 2009 won the award for attendance, with 134 graduates showing up. The award for the highest percentage of Loyalty Society members — giving two or more consecutive fiscal years — was the class of 1974 (29 percent). 1974 also won the prize for Legacy giving.
"Georgetown Law helped us ensure that we could make a living from our studies," Goldman said. "More importantly, Georgetown Law helped us make lives, contributing lives, important lives, meaningful lives, blessed lives. We can be grateful that individually and collectively, our memories are truly a blessing."
Goldman was also on hand at the start of the weekend to welcome his 1969 classmates to the annual Founder's Circle Luncheon, honoring the classes of 1969 and earlier. "I'm amazed I'm at that point; I can't believe all these years have gone by," he revealed. "I certainly haven't gotten that much older."
And his classmates' personalities, he noted, have not changed. "The ones who were leaders are still leaders; the ones who were funny are still funny; the ones who were countercultural are still countercultural. It's terrific."
Watch the Reunion video!