Georgetown Law Hosts Prosecutor General of Ukraine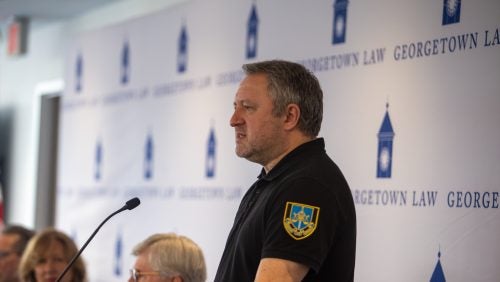 While visiting Washington this week, the Prosecutor General of Ukraine, Andriy Kostin, stopped at Georgetown Law to take part in an event highlighting the efforts of the Atrocity Crimes Advisory Group for Ukraine (ACA), an international justice initiative established last year by the United States, the European Union and the United Kingdom to support Ukraine's efforts to document and prosecute war crimes and other atrocities perpetrated against its citizens.

As announced in November, Georgetown Law's Center on National Security (CNS), supported by a two-year $20 million grant from the U.S. State Department, is serving as the lead coordinator for the ACA's work.
RULE OF LAW
Speaking to a standing-room-only crowd of students, faculty, government and civil society organization staffers and journalists, Kostin spoke movingly of the challenges his country faces. He said that since the Russian invasion of Ukraine began nearly one year ago, investigators have collected evidence of some 65,000 war crimes and 9,000 civilian deaths, and noted that the actual number is likely far higher for both.
"How can the international community help Ukraine with national prosecution? Investigating a shelled building, torture site or mass grave is a unique and complex task," explained Kostin, detailing the kinds of expertise his team requires, from crime scene analysis, ballistics and digital forensics to knowledge of human rights law.
Ukraine's partnership with the ACA is a new model for international justice: while Ukraine itself will lead the vast majority of prosecutions, foreign experts will support and provide technical experience in managing the sheer scope of the task.
Senator Dick Durbin, F'66, L'69, chair of the Senate Judiciary Committee, also delivered brief remarks – and noted that he would later in the day be meeting again with Kostin and with a bipartisan group of Senate colleagues to discuss U.S. government aid to Ukraine. Durbin drew parallels between Ukraine's efforts to seek justice and the post-World War II Nuremberg trials of Nazi leaders.
"The best corrective to the brutish lawlessness of the Nazi regime was the rule of law," said Durbin, lamenting that while the Soviet Union was allied with the U.S. and Britain in the fight against Nazism, today Russia is the aggressor against Ukraine.
'KALEIDOSCOPIC' JUSTICE
Following Kostin and Durbin's opening remarks, Professor Mitt Regan, CNS co-director and Georgetown-ACA faculty coordinator, moderated a discussion with Kostin, U.S. Ambassador-at-Large for Global Criminal Justice Beth Van Schaack and Georgetown-ACA's co-principal investigators, CNS Senior Director for International Justice Clint Williamson and CNS Executive Director Anna Cave.
Van Schaack outlined the multilayered and complicated system that is still unfolding as Ukraine and a variety of partners determine the most effective way to secure justice for Ukraine.
"It's incredible to see the international community activating a whole range of accountability mechanisms in response to Russia's full-scale invasion, and Ukraine itself has been incredibly adept at utilizing lawfare as part of its kaleidoscopic defensive maneuvers, using any legal fora available to them – the International Court of Justice, the ICC [International Criminal Court], the Law of the Sea tribunal, its own domestic courts – and now, being part of this joint investigative team," said Van Schaack.
Williamson, who has nearly three decades of experience in international justice, including a stint as U.S. Ambassador-at-Large for War Crimes Issues, said that this Ukraine project, based at an academic institution rather than a governmental or international organization, is unprecedented. He added that given how difficult it has become to reach consensus through the United Nations and other multilateral bodies, this new model is potentially something that can be replicated in future situations.
"We are having to look at other options for delivering justice," said Williamson. "The work that Georgetown is doing right now is incredibly innovative."
Cave, who brings her own experience from prior positions at the State Department and National Security Council, described how the Georgetown-ACA team is taking shape, with a team in Washington, researchers at Georgetown and experts from around the globe holding daily and weekly video calls with lawyers in Kyiv and with the Office of the Prosecutor General. She said that not only will they be drawing in multidisciplinary expertise from scientists, environmental specialists, doctors and psychologists, they also plan to include input from Ukrainian citizens through a quantitative and qualitative survey of communities and stakeholders.
"I'm hopeful that [survey] information can really help us set priorities. Which cases are most important, what kinds of justice are people most interested in? Is it reparations? Is it finding their loved ones?" said Cave, underscoring the importance and innovation of consulting those who have been most affected by the conflict. "I'm excited about really setting a gold standard," she said.
Kostin thanked the ACA leaders for their partnership, and appealed to the future lawyers in the room to support the cause of global justice as well.
"We can't deliver justice alone," said Kostin. "I'm really grateful for Clint's team and his devotion, to Anna and to Georgetown for taking this case."
"Justice is something which is inside our souls and hearts," continued Kostin. "Even if people can't explain in legal terms what it is, if they feel it, they are happy. And we all fight for people to be happy."
Watch the entire event: