Georgetown Law Orientation 2022: New Students Advised to 'Speak, Listen and Learn'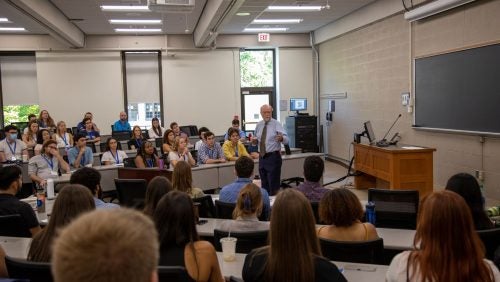 How is a law school class like a symphony orchestra?
Greeting the Georgetown Law J.D. Class of 2025, Dean William M. Treanor explained that putting together each incoming class is much like assembling a full orchestra, with each member bringing unique perspectives and experiences.
"We want a symphony – the piccolo players, and the violinists, and the trombone player and the timpanist," said Treanor. "Education is like a symphony. It works when all the voices – all the instruments – express themselves."
As a whole, the 591 1Ls who have just arrived on campus are an impressive lot. They hold the school's highest ever median grade point average and match last year's high point in median LSAT scores. Nationwide, one in every five law school applicants applied to Georgetown Law.
34 percent are students of color and 56 percent are women. 116 are Opportunity Scholars – recipients of scholarships for students with the highest academic achievement and highest financial need – the largest such cohort to date.
But Treanor reminded the new students to look beyond the numbers and get to know their classmates as individuals.
He illustrated his point with an anecdote from his own law school days in the early 1980s. His roommate at the time, Evan Wolfson, credited by many as the architect of the marriage equality movement, was writing a thesis that argued for the legalization of same-sex marriage. Treanor, a budding constitutional law scholar, was skeptical a constitutional case could be made. The two friends debated the issue over the course of many months.
"Evan convinced me I was wrong, that there should be a constitutional right," said Treanor. "I listened. I learned. I also think his paper was better because he had to respond to my arguments."
"Speak, listen and be open to learning from the dialogue," Treanor urged the students.
THE BIG PICTURE
524 graduate students also began at Georgetown Law this fall: 160 graduates from U.S. law schools and 364 who hold law degrees from universities abroad. They represent 66 different countries and speak 55 native languages. Most are enrolled in LL.M. programs, but three are earning SJD degrees.
"Our graduate students add incredible depth and diversity to our Law Center community," said Caryn Voland, Assistant Dean for Graduate Admissions, noting that many students faced global challenges like the COVID-19 pandemic, inflation and even war zones on the way to campus. "We are grateful for everyone's safe arrival," she added.
MEET THE PROFESSORS
Members of the Georgetown Law faculty were on hand to introduce topics and teaching styles that the lawyers-in-training would be immersed in over the next three years.
Ceallach Gibbons (L'25) said she was thankful for the class she'd attended with Professor Aderson Francois, her Civil Procedure teacher. After hearing so much about law school would be like, hearing his presentation on the Supreme Court's slavery-era Dred Scott decision made everything more real. "I have a sense of what to expect now," she said.
Shannon McDonald (L'25) said she enjoyed the annual Faculty Moot Court, held this year at the nearby Shakespeare Theatre as the Law Center's Hart Auditorium is undergoing renovation. A panel of Georgetown Law professors, Paul Smith, Aderson Francois, Louis Michael Seidman and Caroline Fredrickson, played the roles of Supreme Court Justices, questioning "advocates" Kelsi Brown Corkran, Supreme Court Director at the Institute for Constitutional Advocacy and Protection and Irv Gornstein, Executive Director of the Supreme Court Institute about the case 303 Creative LLC v. Elenis, which will be argued before the real Supreme Court this term. Collectively, these professors have argued and briefed scores of cases before the Court.
"It was a great introduction to the structure of the case," said McDonald, a paralegal who is excited to move ahead in her legal career.
GETTING TO KNOW YOU
Orientation week was also full of opportunities for the students to get to know each other – and the nation's capital around them.
Professors and staff organized excursions to the National Museum of African American History and Culture, the United States Holocaust Memorial Museum and the C&O Canal.
David Mao (L'93), the Law Center's Chief Operating Officer, led a walking tour of Capitol Hill. He advised the students to attend Congressional hearings, witness Supreme Court arguments and study in the ornate reading rooms at the Library of Congress. (He was especially bullish on the latter, having served as Acting Librarian of Congress before returning to Georgetown Law as an administrator.)
A Friday afternoon "block party" on the Eleanor Holmes Norton Green served as the grand finale for the week – where hundreds of students mingled, took selfies with each other and the Dean, played cornhole and ate sliders and ice cream bars.
Anthony Paranzino (L'25) smiled as he said he was happy to have had the chance to socialize with his new classmates before the realities of assignments set in. "The first word out of everyone's mouth isn't, 'How are you keeping up with the reading?,'" he said.
"Here in D.C., you have access to everything. I'm very optimistic," he added.
---
RISE AND SHINE
Orientation began a week early for the 120 new J.D. students who chose to participate in a pre-orientation with the Law Center's RISE program, which supports students from backgrounds underrepresented in law school and the legal profession.
"The whole legal profession felt very mystifying," said RISE fellow Aria Falcone (L'25). "I identify as nonbinary and queer, I grew up low-income and I don't really know many lawyers." Falcone said they were impressed by the resources RISE offered, from videos and readings sent over the summer, to a mock class and exam once they arrived on campus, to additional sessions on topics like financial literacy.
"Not only was it helpful for me academic-wise, but also life skills-wise," said Falcone.
Another RISE fellow, Hamza "Obi" Atumah (C'20, L'25) said that a meeting with U.S. Magistrate Judge Zia M. Faruqui (C'01, L'04) was a highlight of the week.
Faruqui shared that there were many times during law school and in his career he'd felt like he didn't fit in. He credited the mentors who'd encouraged him along the way and praised RISE for helping its fellows thrive in their new environment.
Atumah, the son of immigrants from Morocco and Nigeria, said that in addition to the helpful advice the judge offered about career networking, he appreciated Faruqui's honesty and relatability.
"His life story was similar to mine," said Atumah. "This is somebody who's been there. It's definitely achievable."