In 2020, Georgetown Law Welcomed its Most Diverse Class Ever with Online Orientation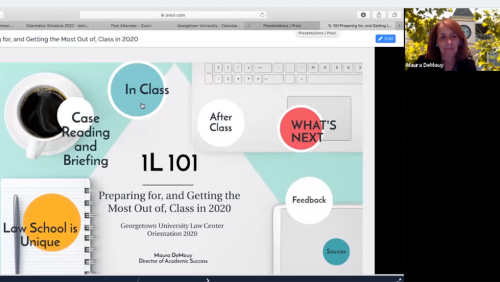 Georgetown Law Dean William M. Treanor always enjoys welcoming the incoming students at the beginning of a new school year, but this fall he was especially effusive.
"Every class at Georgetown is pretty remarkable, but you are the strongest class in the history of the school. I don't want to hear that you were bragging to the other classes that you're the best, but it's true," Treanor told the Georgetown Law Class of 2023 during orientation week.
"It's not just that you have great academic records. Our motto is "Law is but the means, justice is the end.' And you're here because we're looking for people whose lives and careers will reflect that mission," continued Treanor.
The 612 new Georgetown Law JD students make up the most diverse class in the school's 150-year history: 32% students of color, 15% Black students and 57% women. The evening program cohort has 58 students, the highest number in eight years. What's more, the class includes 100 Opportunity Scholars — recipients of the Law Center's scholarships for students who have demonstrated both excellent academic achievement and significant financial need.
The continuing severity of the COVID-19 pandemic meant that Georgetown Law's earlier plan to start the new school year with some students attending classes on campus was not to be, and orientation week took place fully online. Even so, Dean of Admissions Andrew Cornblatt was all smiles as he joined Treanor via Zoom to greet the group he and his team had assembled out of nearly 10,000 applicants.
"It's my favorite day! Because this is the day when I get to welcome you all," said Cornblatt, adding, "I hereby declare that I'm not going to say, 'Isn't it a shame,' and 'It's too bad that,' and 'If only' and 'I wish.' Uh-uh! They're all gone from my vocabulary. Excitement begins now. This is great, exciting stuff and I'm excited for you and I'm excited for the law school to have you here."
As for Georgetown Law's LL.M. program, an expected 566 graduate students (13 more than last year), hailing from 62 different countries, will enroll at the Law Center over this academic year. Due to ongoing travel and visa restrictions and other pandemic-related factors, more than half of them will begin their programs in the spring semester.
A major highlight for the graduate program this fall was the addition of two new degrees in technology law: the LL.M. in Technology Law and Policy, for students who have already earned a J.D., and the Master of Law and Technology (M.L.T.), the first of its kind, for non-lawyers with an interest in understanding the field.
1L 101
During orientation, Director of Academic Success and Title IX Coordinator Maura DeMouy offered a series of "1L 101" presentations that demystified how law school classes are taught, set realistic expectations for how much time students should spend studying and described the extensive resources available at Georgetown Law — from career advisors to fitness and wellness sessions to psychological counseling.
Like the week's other speakers, DeMouy adjusted her comments to address the current reality of distance learning. She reminded students to take breaks when feeling drained from hours on Zoom and talked about how self care is even more important in this time of pandemic. Above all, she sought to reassure the new students that even though this year's circumstances were unusual, the Law Center staff and faculty were eager to do as much as possible to get them off to a good start.
"As daunting as it might feel, you are going to have so many opportunities to interact with faculty through office hours, discussion boards… materials they will use to frame and share with you their thoughts on what the law is and how they're interpreting it," said DeMouy. "I think this is going to be a very rich semester. Better? Worse? I would just say it's going to be different," she concluded.
A Taste of the Online Classroom
One new feature of the orientation week was "Introduction to the First-Year Classroom Experience," in which 10 different professors each held an introductory meeting with one of their first-year classes. This was to ensure that no one would be going into their first official class without having had a taste of online learning at Georgetown Law. The professors guided a bit of discussion on a pre-assigned reading, left plenty of time for questions about course content and provided opportunities for the students to start getting to know their classmates better.
"Take a good look at your screen. Four or five of the people you're staring at will be your best friends for life," Professor David Vladeck urged his Civil Procedure students.
Then, the students each had a moment to share a bit about themselves. So many mentioned playing musical instruments that by the end of the session, there were jokes about starting a class band.
Meanwhile, Professor Sheryll Cashin split her 36 Constitutional Law students into several online breakout rooms and asked them to talk about the best TV shows they'd watched during the pandemic. When the class got back together, she invited one student to share his choice ("The Wire") and then another to offer her critique (that the show was overrated). Then she pointed out that what seemed like just a fun icebreaker had actually already given them a chance to experience small group discussions and respectful classroom debate — both of which would be essential to their study of the nation's founding documents.
"This country has survived civil war, two world wars, military conflict, a lot of national challenges — and the meaning of the Constitution is even more important in times of crisis," Cashin told her new students. "It could not be a more interesting time to study the Constitution."
"These Are My People"
Floridian Samantha Crisanti took part not only in the 1L orientation week, but also in the pre-orientation program RISE, which is for incoming students from backgrounds historically underrepresented in law school and the legal profession. Between the two programs, she said, she felt well prepared to take on her first year.
"I think all of us had these reservations about what coming to law school would look like in a pandemic — and finding community, what would that even look like? But the RISE program just made me feel immediately like these are my people," Crisanti said. "I appreciated all the 1L 101 sessions about making sure wellness is a priority. It's important to do well in law school, but you're going to do well because you're taking care of yourself. That was a really important thing for us all to be reminded of."
Crisanti was inspired to go to law school by the example set by her grandmother, one of the first women lawyers in Guatemala. Her interest in studying civil rights law was one of the reasons she chose Georgetown.
"I tried to emphasize schools that seemed to draw a lot of public interest-minded people," said Crisanti. "I also wanted to be in a city, and I don't think there's a better place to be than Washington, D.C. if you're interested in civil rights work."
1L student Javen Kostrzewa, originally from Wisconsin, connected to orientation from Los Angeles, where he has lived since attending the University of Southern California. After a few years working in entertainment — including roles in several commercials and a cruise ship gig — he decided to pivot toward a career in law, perhaps to work with entrepreneurs through a private equity firm.
With uncertainty about when and whether classes would take place on campus, Kostrzewa decided to stay in California, where he already has a network of friends, for now. Dealing with the three-hour time difference has been challenging, he said, but he was glad to have gotten some flexibility in his class schedule when he requested it, so he doesn't have to log on in the pre-dawn hours.
"It makes office hours a little wonky," said Kostrzewa. "But all the professors are just so nice, and [say]: 'Let me know if it doesn't fit here, we'll find a time.'"
Brianna Burke, who grew up in the Washington suburbs, has been interested in attending Georgetown Law since childhood, having heard about it from friends' parents who were alumni. She said she was pleasantly surprised by the online orientation.
"It was really such an uplifting experience," said Burke. "They took such a negative and still had such positivity throughout the months leading up to school… It really showed how many resources the school has and how they're committed to getting each student involved in so many different ways, even in a virtual environment."
While Burke hopes to have the opportunity this school year to meet her classmates and professors face to face, she's determined to make the best of things however things unfold, and is confident her professors are doing the same.
"It's such a crazy year, [with] so many new challenges… It's new for everyone — the professors as well… It felt very raw and real. I liked the authenticity. We're all kind of figuring this out together," she said. "I'm so happy to be here."