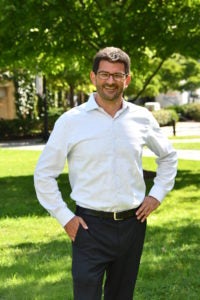 Mitch Bailin
Associate Vice President and Dean of Students
Mitch Bailin oversees a wide range of co-curricular programs at the Law Center, including student organizations and competition teams, residence life, wellness promotion, academic support, the Registrar's office and disability services. He also provides personal and academic advising; manages the school's response to urgent or concerning student situations; and develops, teaches and supervises a broad array of innovative professional formation programs.
Prior to coming to Georgetown, Mitch practiced in the litigation department at Palmer & Dodge LLP in Boston, where he focused on the representation of schools and colleges. He also served as a law clerk to the Honorable Chief Justice Margaret H. Marshall of the Massachusetts Supreme Judicial Court after graduating from Yale Law School.
Maura DeMouy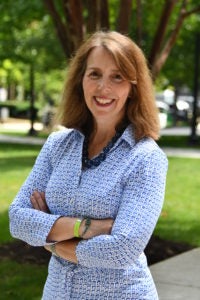 Director of Academic Success and Title IX Coordinator
Maura DeMouy provides personal and academic advising; develops and presents the 1L 101 workshop series; oversees the peer tutoring program; provides additional resources for academic success to students, including individual sessions on study skills, exam taking, legal writing, course and extracurricular activity selection, and career strategies; advises Barristers' Council; works with the Center for Wellness Promotion on wellness initiatives; and serves as the Deputy Title IX Coordinator. Prior to coming to Georgetown, Maura was the Dean of Students at The Catholic University of America's Columbus School of Law. Before CUA Law, at the University of Maryland School of Law, she taught Legal Research and Writing a for over eight years and a skills course preparing women for law practice. She also coordinated the LEAD Initiative, which helped students prepare for practice with curriculum and programs focused on leadership development, cultural competency and ethics. Prior to Maryland Law, she was an associate at Hogan & Hartson.

Judith Pérez-Caro, Ph.D.
Executive Director of Equity and Inclusion
Dr. Judith Pérez-Caro is the inaugural Executive Director of Equity and Inclusion at the Georgetown University Law Center. Before coming to Georgetown Law, Judith served in a consultative capacity for the Cisneros Hispanic Leadership Institute to develop their pre-college summer program at George Washington University. She is also the former Director of Diversity at the Stone Ridge School of the Sacred Heart and has served as an administrator at Barnard College, Pace University, and the corporate diversity pipeline program INROADS. In addition to her practitioner work, Dr. Pérez Caro has taught at the university level for John Jay College of Criminal Justice – CUNY, Fordham University, and The Catholic University of America. She currently serves on the Canisius College Board of Regents and is an Advisory Board Member for the Glasgow Group, LLC, which administers the annual National Diversity Practitioners Institute for educators. Dr. Pérez-Caro holds degrees from Canisius College, Columbia University, and obtained her PhD in Sociology from Fordham University. Learn Learn more about Dr. Pérez-Caro and the Office of Equity and Inclusion.
---
---
Chris Hall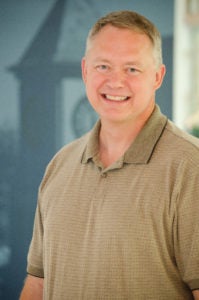 Director of Residence Life
Chris Hall, Director of Residence Life and Student Housing, has been a part of the Georgetown community since 1999. Prior to coming to Georgetown Law, Chris worked for an educational foundation in Washington, D.C. focusing on civics and government, and for Midwestern State University in Wichita Falls, Texas. He holds a B.A. in political science and history and an M.A. in Liberal Studies. Chris lives with his wife and two daughters in nearby Silver Spring, MD. A native Texan, Chris is a die-hard Dallas Cowboys and accustomed to taking on the fans of the local team!

J. Trent Kennedy
Coordinator of Residence Life & Student Housing
Trent Kennedy oversees the regular operations of the Gewirz Student Center, advising residents and supervising the Resident Fellows. Before coming to Georgetown Law, Trent earned his J.D. from the University of Minnesota and his M.A. in Student Personnel Services from Northwestern State University. He currently serves on the leadership of both the Student Services section and the new section on Empirical Study of Legal Education and the Legal Profession within the American Association of Law Schools. Trent apparently struggles to smile in photos, but he will actually laugh at your jokes.
---
Maura Eichwald, M.P. S.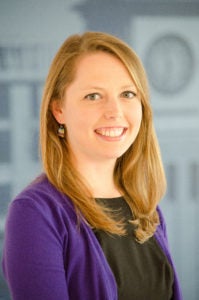 Acting Director of Student Life
Maura advises all student organizations and student leaders, and oversees student events. In addition to working with student organizations, Maura works with the Barristers' Council; she assists the students with their competition travel arrangements, manages the organization's finances, and provides additional administrative support for the group. She also assists with all major OSL events, including Orientation. Maura earned a B.A. in Media Studies from The Catholic University of America and a M.P.S. in Public Relations and Corporate Communications from Georgetown University.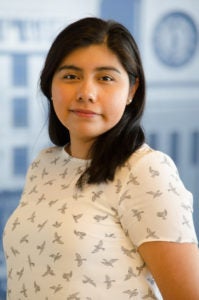 Paola Bonilla
Office Manager
As the Office Manager, Paola is in charge of regulating internal budgets for the Office of Student Life. She also, administers advertising requests for student organizations and the weekly OSL Broadcast. She is responsible for ensuring the office runs smoothly through Orientation week, Graduation Gala and the academic year. Paola holds a BA in Ethnic Studies from Brown University and a MA in International Education from George Washington University. She previously taught English as a Second Language in South Korea.