Georgetown Law Faculty and Alumni Tapped to Serve in Biden-Harris Administration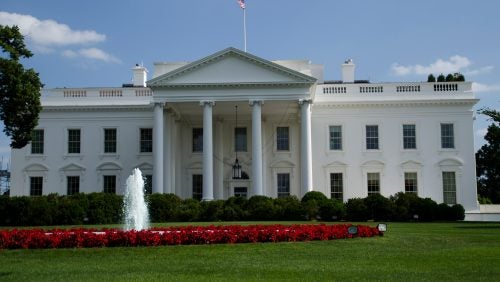 Just hours after President Joe Biden and Vice President Kamala Harris were inaugurated on Wednesday, Georgetown Law alumna Avril Haines (L'01) became the first member of the new cabinet to be confirmed by the Senate.
As the new Director of National Intelligence, Haines is also the first woman to hold the country's top intelligence role and is among numerous alumni joining the new administration.
By Friday, several members of the faculty and staff had also assumed important roles as well — at the National Security Council, the Environmental Protection Agency, and the Office of National Drug Control Policy — and additional announcements could be forthcoming.
"This is what we call our 'D.C. difference' in action," said Dean William M. Treanor. "It is a great joy to see former students take what they learned at Georgetown Law and use it to address some of the most urgent issues facing our nation. And while we will miss the faculty members who are answering the call to government service, we hope to welcome them back to campus with new insights and experiences to share with our community."
To date, the Georgetown Law faculty and staff who are joining the Biden-Harris administration include:
Professor from Practice and Executive Director of the Georgetown Climate Center Vicki Arroyo (L'94) will serve as Associate Administrator for the Office of Policy at the U.S. Environmental Protection Agency (EPA).
For the past 12 years, Arroyo has led the Climate Center's work informing the federal dialogue on climate mitigation and adaptation with lessons from leading states and communities and providing assistance to states on developing innovative new policies.
Arroyo previously served in the EPA's Office of Air and Radiation and the Office of Research and Development, where she supported development of air toxics and criteria pollutant standards under the Clean Air Act.
During the January 22 daily press briefing, White House Press Secretary Jen Psaki announced that Visiting Professor Joshua Geltzer is joining the administration as part of its new effort to assess and address the "serious and growing national security threat" of domestic violent extremism.
His new title will be Special Assistant to the President and Special Advisor to the Homeland Security Advisor on Countering Domestic Violent Extremism. Geltzer, Executive Director of the Institute for Constitutional Advocacy and Protection, in the past served as Senior Director for Counterterrorism and Deputy Legal Advisor at the National Security Council and as Counsel to the Assistant Attorney General for National Security at the U.S. Department of Justice.
Regina LaBelle, Distinguished Scholar and Program Director of the Addiction and Public Policy Initiative at the O'Neill Institute for National and Global Health Law, is serving as Acting Director of the Office of National Drug Control Policy (ONDCP) in the Executive Office of the President. During the Obama-Biden administration, LaBelle worked for the ONDCP as Chief of Staff and senior policy advisor.
Professor from Practice Martin Lederman is joining the U.S. Department of Justice's Office of Legal Counsel (OLC) as Deputy Assistant Attorney General. This will be his third time serving at the OLC, where he was Deputy Assistant Attorney General from 2009 to 2010 and an Attorney Advisor from 1994 to 2002.
Professor Itai Grinberg has been appointed Deputy Assistant Secretary for Multilateral Tax Affairs at the U.S. Department of the Treasury. Before joining Georgetown Law a decade ago, he worked in the Treasury's Office of International Tax Counsel during both the Bush-Cheney and Obama-Biden Administrations. In 2005, Grinberg served as Counsel to the President's Advisory Panel on Federal Tax Reform. During his time in academia, Grinberg has been an outside international tax advisor to several multilateral organizations, including the Organisation for Economic Co-operation and Development (OECD), the Asian Development Bank and the Inter-American Development Bank.
This section was last updated on July 30, 2021.
Georgetown Law alumni who are joining the Biden-Harris administration include:
Elizabeth Alexander (L'08) is Communications Director for First Lady Jill Biden. Alexander has long worked for now-President Biden, including stints as a senior advisor to his presidential campaign, as his press secretary when he was Vice President and as his press secretary and communications director when he was in the Senate.
Maher Bitar (F'06, L'12) is senior director for intelligence at the National Security Council. Until recently the general counsel for House Intelligence Committee Democrats, during the Obama-Biden administration, Bitar was Director for Israeli and Palestinian Affairs at the National Security Council and a Foreign Affairs Officer in the U.S. State Department Office of the Special Envoy for Middle East Peace.
Tommy Beaudreau (L'97) was confirmed as Deputy Secretary of the U.S. Department of the Interior. Previously a partner at Latham & Watkins, LLP, Beaudreau previously served at Interior during the Obama-Biden administration
Corina Cortez (L'94) is serving as Special Assistant to the President for Presidential Personnel. Cortez, the former Deputy Chief of Staff for the EPA, has also held senior positions at the Rockefeller Foundation, National Education Association and Children's Defense Fund.
Hartina "Tina" Flournoy (C'78, L'84) is serving as Chief of Staff to the Vice President. Most recently chief of staff to former President Bill Clinton. Flournoy has held many other jobs in Democratic politics and policy, including as senior adviser to former DNC Chair Howard Dean, finance director for Al Gore's presidential campaign and deputy campaign manager in the 1992 Clinton-Gore Presidential Transition.
Mark Gitenstein (L'71), Senior Counsel at Mayer Brown LLP, has been nominated to be U.S. Ambassador to the European Union. Gitenstein, who was ambassador to Romania under President Obama, has a longstanding professional and personal relationship with President Biden, including working with him on several Senate committees and serving on the board of directors of the Biden Foundation.
Don Graves (L'95) was confirmed as Deputy Secretary of Commerce. During the Obama-Biden Administration, Graves was executive director of the President's Council on Jobs and Competitiveness, and was appointed by Biden to lead the medical research initiative known as the "Cancer Moonshot." Most recently, Graves led corporate responsibility and community relations at KeyBank.
Avril Haines (L'01) has been confirmed as Biden's Director of National Intelligence (DNI). During the Obama-Biden administration, she was Deputy National Security Advisor, Deputy CIA Director and Deputy Counsel for National Security Affairs in the Office of White House Counsel. In her opening statement at her Senate confirmation hearing on January 19, Haines said, "To be effective, the DNI must never shy away from speaking truth to power — even, especially, when doing so may be inconvenient or difficult."
Jaime Harrison (L'04) was chosen by Biden to chair the Democratic National Committee (DNC). Harrison is a former chair of the South Carolina Democratic Party and current associate chair and senior counselor at the DNC. He also challenged Senator Lindsey Graham (R-S.C.) in 2020, and while he fell short in his election bid, broke fundraising records and attracted national media attention during his campaign.
Josh Hsu (C'02, L'05) is Counsel to the Vice President. Hsu previously worked for Harris as National Policy Director for her presidential campaign and as Deputy Chief of Staff and General Counsel for her Senate office. His other work experience includes serving as Chief Counsel for Nominations for the U.S. Senate Judiciary Committee and a Brennan Fellowship at the ACLU.
Ruchi Jain (L'06) has been named Deputy Solicitor for General Law at the U.S. Department of the Interior. Most recently the Pro Bono Counsel for the Washington, D.C. office of Kirkland & Ellis LLP, Jain held several positions in the White House and Department of Justice during the Obama-Biden administration, including as a Special Assistant to President Obama.
Frank Kendall (L'03) was confirmed as Secretary of the Air Force. Most recently an independent consultant, Kendall has extensive experience in defense, national security and other related matters, including serving from 2012 to 2017 as the Under Secretary of Defense for Acquisition, Technology and Logistics, as well as other Pentagon roles. His private sector experience includes positions as vice president of engineering for Raytheon Co. and as a managing partner at Renaissance Strategic Advisors. He served 10 years on active duty with the Army.
Leslie Kiernan (L'86) was confirmed as General Counsel of the Department of Commerce. In addition to 20 years of law firm experience, Kiernan served in the Obama-Biden administration as Deputy Counsel to the President, with the White House Council on Women and Girls and as a senior advisor to the U.S. Mission to the United Nations. She is a former vice-chair of the board of Children's National Medical Center.
Fernando Laguarda (L'94) was named General Counsel for Americorps. Until recently the faculty director of the Program on Law and Government at American University Washington College of Law, he has professional experience in antitrust and competition policy, federal oversight and accountability and public law.
Diana Lopez (L'81, MSFS'83) is Senior Advisor to the Administrator of the Federal Railroad Administration. The former General Counsel and Secretary for the Gateway Program Development Corporation, she has extensive public and private experience, including as a Senior Advisor to the Assistant Secretary of State for Economic, Energy & Business Affairs at the U.S. Department of State during the Obama-Biden administration.
Kenneth Polite (L'00) was confirmed as Assistant Attorney General for the Criminal Division at the Department of Justice. During the Obama-Biden administration, he was the United States Attorney for the Eastern District of Louisiana. His previous public and private positions include a partnership at Morgan, Lewis & Bockius LLP, serving as an Assistant United States Attorney for the Southern District of New York, working as Vice President and Chief Compliance Officer for Entergy Corporation and clerking for the Honorable Thomas L. Ambro of the United States Court of Appeals for the Third Circuit.
Andrew Strelka (L'10) is serving as Senior Tax Counsel at The White House. His prior government service includes as a Trial Attorney in the U.S. Department of Justice Tax Division and as a Presidential Management Fellow in the Internal Revenue Service and U.S. Department of Justice.
Jonathan Su (L'01) was named Deputy Counsel to the President. Following his work as Special Counsel to the President under Obama, he became Deputy Office Managing Partner at Latham & Watkins LLP's Washington, D.C. office.
Monty Wilkinson (L'88), a veteran of the U.S. Department of Justice, served as Acting Attorney General between Inauguration Day and Merrick Garland's confirmation as Attorney General, and then was named director of the Executive Office for United States Attorneys, a position he previously held during the Obama-Biden administration. After law school, he clerked for Eric Holder, then a judge of the Superior Court of the District of Columbia. He joined the Justice Department as a trial attorney in 1990, and has spent the better part of his career there since, in roles including special counsel and spokesperson for the U.S. Attorney for the District of Columbia, deputy chief of staff and counselor to Attorney General Holder, and Deputy Assistant Attorney General for Human Resources and Administration.
Ali Zaidi (L'15) was named Deputy National Climate Advisor, a role within the new White House office on climate policy being established by Biden. During the Obama-Biden administration, Zaidi worked on climate policy at the United States Domestic Policy Council, the Office of Management and Budget and U.S. Department of Energy.
Other members of the Georgetown Law faculty provided advice to the Biden-Harris transition as part of agency review teams before the inauguration: Professor Chris Brummer with the Department of the Treasury, Regina LaBelle with the Office of National Drug Control Policy, Professor Martin Lederman with the Department of Justice and Professor Laura Moy with the Federal Trade Commission.
While several Georgetown Law alumni and professors are entering the new administration, in at least one case, the start of the new Biden-Harris administration has led to a new faculty member joining the Law Center. As previously announced, Douglas Emhoff, who Wednesday became the nation's first Second Gentleman, has joined Georgetown Law as a Distinguished Visitor from Practice. In his almost 30-year legal career, Emhoff was known for tackling and resolving the toughest problems and litigating high stakes disputes with an emphasis on media, entertainment and intellectual property matters. He will teach a course on "Entertainment Law Disputes" in the Spring semester and will serve as a Distinguished Fellow of Georgetown Law's Institute for Technology Law and Policy.