Georgetown Law Welcomes New Faculty Members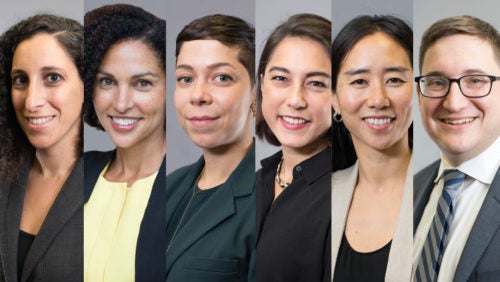 Georgetown Law's greatest strength, apart from our students, is our world-class faculty.
Our five newest tenure-track faculty members are already leading the way in clinical education, national security, criminal justice, intellectual property and health. Three have been at Georgetown Law for years, already making valuable contributions to our community, and two incoming faculty members are new to Georgetown. The stellar Legal Practice team also keeps getting better, adding one new full-time professor this year. (Click on each professor's name to read their individual profile stories.)
Professor Yael Cannon directs the Health Justice Alliance, a medical-legal partnership with Georgetown University where students address the legal as well as medical challenges to good health, such as landlord-tenant issues.
Professor Vida Johnson, a former public defender, is working in the criminal justice space, teaching in the Criminal Defense and Prisoner Advocacy Clinic and the Criminal Justice Clinic, as well as supervising our Prettyman Fellows — who have assisted criminal defendants ever since the program was established in 1960.
Professor Laura Moy is the director of our Communications & Technology Law Clinic, addressing issues such as police use of facial recognition technology.
Professor Amanda Levendowski who comes to us from NYU Law, will launch Georgetown Law's new Intellectual Property and Information Policy Clinic — bringing the number of full-time tech faculty at the Law Center to an astounding 19 (more than the entire number of faculty at some law schools.)
Professor K-Sue Park, who has a Ph.D. from Berkeley and a J.D. from Harvard, comes to us from UCLA Law, where she was the Critical Race Studies Fellow.
The Legal Practice faculty, with more than a dozen members, is enhanced this year with Professor Jonah Perlin (L'12), who holds an A.B. from Princeton, an A.M.R.S. from Chicago and a J.D. from our own Georgetown Law.
"We are thrilled to welcome our newest full-time faculty members," said Dean William M. Treanor. "Whether they are new arrivals on campus, or whether they have already been an integral part of our family for several years, each is a remarkable addition to our faculty who will help to further the Law Center's mission of justice through clinical work, technology, criminal justice, health, legal writing, scholarship and intellectual property. I look forward to the work that they will do as teachers and as scholars in the years ahead."
With more than 100 tenured or tenure track full-time faculty working in every legal discipline — and dozens more working as Legal Practice professors, Professors from Practice, Distinguished Visitors, Graduate professors, Adjunct Professors and many more — our instructors are forging new pathways in an ever-changing world.
Whether working in technology, international, clinical education, human rights, health, criminal justice, tax, or any number of other disciplines, the members of our faculty shape the lives of students through teaching, assist clients through advocacy, influence peers through scholarship and serve as thought leaders for their communities in Washington, D.C., across the country, or around the globe.