Civil Rights Lawyer Sherrilyn Ifill Headlines Georgetown Law Journal Symposium on Democracy in Transition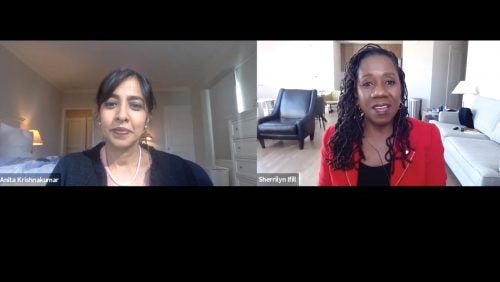 As keynote speaker for the Georgetown Law Journal's 2021 symposium on the theme "Democracy in Transition," civil rights lawyer Sherrilyn Ifill expressed both hope and apprehension.
"I am wrestling with the question as to whether the transition is toward greater democracy or away from democracy," said Ifill, president and director-counsel of the NAACP Legal Defense and Educational Fund, in conversation with Georgetown Law professor Anita Krishnakumar. "I think those two things are happening at the same time, which makes the subject of this symposium spot on."
Because of the ongoing COVID-19 pandemic, the Journal's symposium — held biennially since 2015 — featured an entirely virtual format for the first time. Panels were pre-recorded, not live-streamed, and posted online simultaneously.
"It used to be an all-day program, and they would fly people in, so we had to do a total switch," said Gabriela Chartier (L'22), senior symposium and development editor. "With the technical issues, we were breaking new ground. But it ended up being a good thing, because now we're able to reach a much broader audience. I think it's here to stay."
In addition to the keynote, the symposium also featured panels on D.C. statehood and gender at the post-Ginsburg Supreme Court, expanding on the theme of democracy in transition. Chartier noted that the topic was foremost in students' minds when the selection was made last spring. "This was on the heels of the attempted insurrection at the Capitol, and we were all very moved by what happened," she said.
All of the symposium speakers are authoring pieces for the final issue of the Journal's Volume 110, to be published in summer 2022.
"One of our big priorities this year at the Journal is diversity in authorship. We wanted to make sure that some authors who would otherwise not get as much of a spotlight would be able to participate," said Editor-in-Chief Agnes Lee (F'17, L'22). One example is Georgetown Law assistant professor Kevin Tobia, an expert on cognitive science, who spoke on progressive textualism during the Supreme Court panel.
"And someone like Sherrilyn Ifill is coming from a practitioner angle," she added. "It expands the space of legal academia to a broader industrywide discussion."
An Inflection Point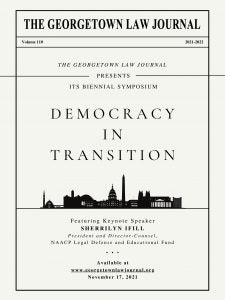 In her keynote, Ifill emphasized that democracy is at an inflection point in the United States. On the one hand, she noted, citizen activism is widespread and ongoing — mentioning earlier protests such as those in Ferguson, Missouri, in 2014 and the national women's marches in 2017.
"We're in a movement period, which I always think is a healthy sign for a democracy, because it means that people are engaged, they're paying attention, they're willing to put themselves on the line by coming out of their house and standing outside and marching and letting their voice be known," she said.
"We should not forget that the protests last summer against police violence and discrimination were the largest civil rights protests that this country has ever seen. And they were multiracial, which was something very powerful and very important."
Ifill also noted that in 2020, the U.S. had the highest turnout ever in a presidential election. But that in turn promoted a backlash, with multiple states passing restrictive voting laws in the election's wake. The NAACP Legal Defense Fund has been at the forefront in challenging this wave of new legislation.
"Then, as we're in the middle of litigating many of those laws, the Supreme Court issued its final decision of the term in July," she said. Calling that case, Brnovich v. Democratic National Committee, "a pretty shocking decision," Ifill explained that it changes the entire standard for reviewing cases under Section Two of the Voting Rights Act, effectively countermanding Congress.
"So we're in a very, very perilous democratic moment around voting," she said.
Ifill concluded with an appeal for the legal profession to be more forceful in policing its members. "The rule of law is a pillar of a healthy democracy, and our profession is entrusted with protecting the rule of law, but what I saw over the last five years is many in our profession pretending they didn't understand what obstruction of justice is, or what witness tampering is, or what executive privilege is and is not."
Symposium organizer Gabriela Chartier found this aspect of Ifill's presentation especially hard-hitting. "She talked a lot about the ethical duties of the profession, how the profession has not been bold in calling out abuses and establishing where the line is," Chartier said. "There's a lot to think about that we might not have otherwise covered in a normal law school ethics class."
A Novel Argument
During the panel on "Statehood as Racial Justice: The Case of the Douglass Commonwealth," moderated by the Journal's senior articles editor, Jesus Rodriguez (L'22), Columbia Law professors Jessica Bulman-Pozen and Olatunde Johnson made the case that Congress has an affirmative constitutional obligation to admit Washington, D.C., as a state.
"Our arguments are centered on the structure of the Constitution and on the citizenship clause of the 14th Amendment," Johnson said. "Given that you cannot have full national citizenship or state citizenship without statehood, that's how we get to statehood as a constitutional obligation."
"We were really excited about it — their argument is so novel," said Agnes Lee. "It felt really special to capture that in the symposium."
Another panel discussion, "Gender at the Post-Ginsburg Court," offered both a retrospective look at the late Justice Ruth Bader Ginsburg's legacy and a look forward to a court dominated by conservatives — including Ginsburg's successor, Amy Coney Barrett. Moderator Amy Marshak, senior fellow at Georgetown Law's Institute for Constitutional Advocacy and Protection and a former clerk for Ginsburg, also provided personal reminiscences about the late justice.
The discussion included prospects for future decisions on gender-related issues such as abortion. "I don't expect the court will actually overturn Roe vs. Wade, but my prediction is that they will cut it back step-by-step," said panelist Victoria Nourse, Ralph V. Whitworth Professor in Law at Georgetown Law.
Transition Towards Justice
Lee, who was profiled in a March Washington Post article as the first undocumented editor-in-chief of a major law school journal, found particular meaning in the topic selected for the symposium under her charge.
"I think that it ended up being such a special experience for me because working with all these authors helped remind me that even in the most difficult times, there are people who are committed to this democracy in transition, and making a transition towards justice."