Peer Advisors
Confused? Anxious? Need support? Contact your Peer Advisor.
Peer Advisors (PAs) help incoming first-year students navigate the many paths through Georgetown Law. PAs are second- and third- year law students who are actively engaged in Georgetown Law student life.  These students have a passion for helping others and can help you navigate academic courses, identify campus resources, form social and professional relationships, and find a healthy balance between classes, career development and personal well-being.
Each first-year student is assigned an upper-class Peer Advisor in the summer before classes begin to assist with the transition to law school. You can expect to receive a welcome email from your PA in August and you will meet your PA at J.D. Orientation. PAs organize social events on campus and provide individual support to advisees throughout the year.
Are you ready to meet your peer advisor?
Peer Advisors and Advisees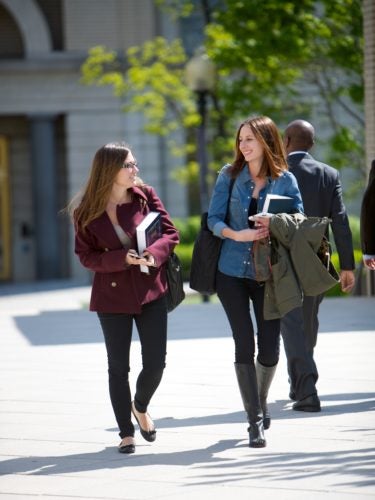 "The Peer Advisors helped me realize that it was normal to have more questions than answers. They gave me advice and told me what I could expect in the coming months. Most importantly, they told me that over the next year I would hear a spectrum of different advice about conquering law school, but that I needed to decide what would work best for me."
-1L Student