The Sarah and Bernard Gewirz Student Center
Dedicated in 1993, the Gewirz student center provides campus housing to up to 290 law students. 
Gewirz is dedicated to Bernard Gewirz (L'53) and his wife Sarah Myers, popular philanthropists in the D.C. area. The Gewirz Student Center provides housing to up to 290 students, prioritizing first year JD students, but the facilities are available to the entire Law Center community.  Located on the first floor is the Office of Residence Life, an office completely dedicated to finding all students housing on or off campus.  The apartments in Gewirz vary in size, ranging from one bedroom efficiencies to full three-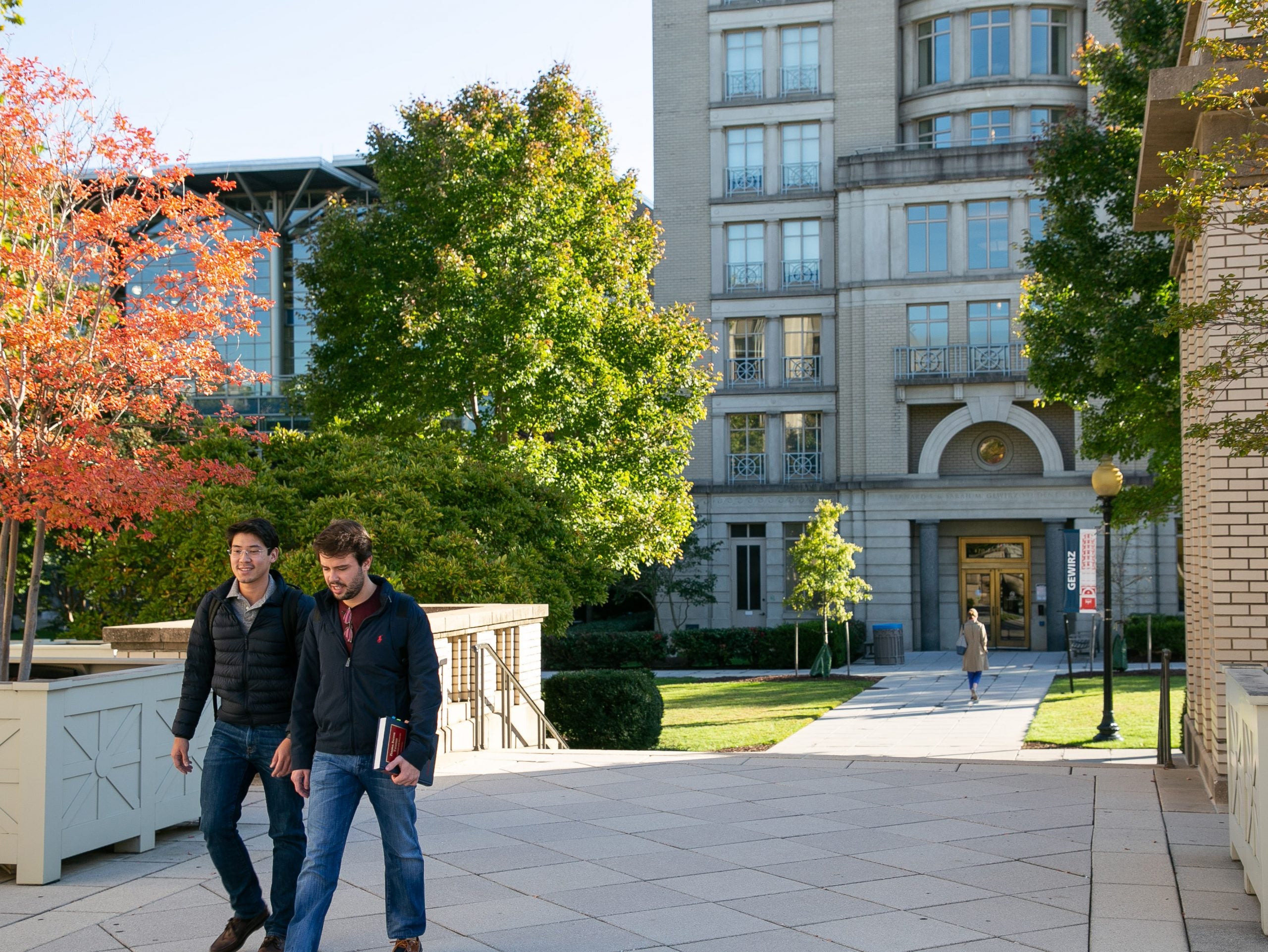 bedroom apartments.  All apartments in Gewirz are equipped with climate controlled air-conditioning, kitchen, bathroom, and separate bedrooms. All rooms are fully furnished with a bed, extra long desk, shelves, desk chair, lounge chair, lamps, and closet space. Additional facilities such as laundry rooms, student recreational lounges, and reading rooms are available for all residents. The Gewirz Center also provides free shuttle service to various locations for grocery shopping, twenty-four hour uniformed security, and controlled building access.  The first floor of Gewirz is also connected by an indoor walkway to the Sports & Fitness Center.
Also located in the Gewirz Center are the Child Care Center, which serves toddler through pre-school age children of students, faculty, and staff, and the Student Health Center.  The 12th floor Lounge, which has great views of downtown Washington, is also frequently used for large receptions and special events. When the campus reopens, make sure to take a look at the 12th floor balcony and see the stunning view of the Capitol!
The Office of Residence Life
The Office of Residence Life & Student Housing provides students with on-campus and off-campus housing services that promote a strong sense of community and student well-being.  They will assist you in securing off-campus housing, and they sponsor programs in the spring to inform students about all of the different housing options and student off-campus housing locations. Students interested in on-campus housing can learn more about the housing application process on the Georgetown Law website.