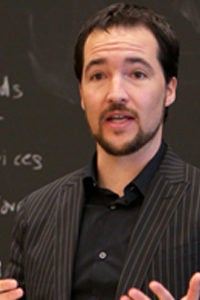 Georgetown Law
Alvaro Santos
Academic Co-Director 2014-2015
Areas of Expertise:
Connect With Alvaro Santos
Brief Bio
Alvaro Santos is Co-Director of the Center for Transnational Legal Studies (CTLS) 2014-2015 and Professor of Law at Georgetown University Law Center. He teaches and writes in the areas of international trade, law and economic development, transnational labor law, and legal theory. His recent scholarship looks at how emerging countries may expand their regulatory policy space for development in the international trade regime.
Professor Santos regularly teaches at Harvard's Institute for Global Law and Policy (IGLP) and Georgetown's WTO Academy. He has taught at the University of Texas, Tufts University, Melbourne Law School, and at the University of Turin-ILO Master's program. Professor Santos serves on the editorial boards of the American Journal of Comparative Law, the Law and Development Review, and the Latin American Journal of International Trade Law. He holds S.J.D. and LL.M. degrees from Harvard Law School, and a LL.B. from Universidad Nacional Autónoma de México (UNAM).
Recent Scholarship
Books
Law and the New Developmental State: The Brazilian Experience in Latin American Context (Alvaro Santos, David M. Trubek, Helena Alviar Garcia & Diogo R. Coutinho eds., Cambridge, U.K.: Cambridge University Press 2013). [ BOOK]
The New Law and Economic Development: A Critical Appraisal (Alvaro Santos & David M. Trubek eds., New York: Cambridge University Press 2006). [ BOOK]
Contributions to Law Reviews and Other Scholarly Journals
Alvaro Santos, International Law and Its Discontents: Critical Reflections on the War on Drugs or the Role of Law in Creating Complexity, 106 Am. Soc'y Int'l L. Proc. 172-176 (2013).
Alvaro Santos, Carving Out Policy Autonomy for Developing Countries in the World Trade Organization: The Experience of Brazil and Mexico, 52 Va. J. Int'l L. 551-632 (2012)
Alvaro Santos, Three Transnational Discourses of Labor Law in Domestic Reforms, 32 U. Pa. J. Int'l L. 123-202 (2010).
Alvaro Santos, Labor Flexibility, Legal Reform, and Economic Development, 50 Va. J. Int'l L. 43-106 (2009).
Alvaro Santos, Working Borders: Linking Debates About Insourcing and Outsourcing of Capital and Labor, 40 Tex. Int'l L.J. 691-805 (2005).
Book Chapters and Collected Works
Alvaro Santos, The Trouble with Identity and Progressive Origins in Defending Labour Law, in Critical Legal Perspectives on Global Governance: Liber Amicorum David M. Trubek 207-246 (Gráinne de Búrca, Claire Kilpatrick & Joanne Scott eds., Oxford: Hart Publishing 2014). [ BOOK]
Alvaro Santos, Carving Out Policy Autonomy for Developing Countries in the World Trade Organization: The Experience of Brazil and Mexico, in Law and the New Developmental State: The Brazilian Experience in Latin American Context (Alvaro Santos, David M. Trubek, Helena Alvair Garcia & Diogo R. Coutinho eds., Cambridge University Press 2013). [ BOOK]
Alvaro Santos & David M. Trubek, Introduction: The Third Moment in Law and Development Theory and the Emergence of a New Critical Practice, in The New Law and Economic Development: A Critical Appraisal 1-18 (Alvaro Santos & David M. Trubek eds., New York: Cambridge University Press 2006). [ BOOK]
Alvaro Santos, The World Bank's Uses of the "Rule of Law" Promise in Economic Development, in The New Law and Economic Development: A Critical Appraisal 253-300 (Alvaro Santos & David M. Trubek eds., New York: Cambridge University Press 2006).  [ BOOK]
Courses taught at CTLS
Core Course: Transnational Law and Global Governance (Fall 2014)

International Trade Law (Spring 2015)