Distinguished Visitor From Practice Douglas Emhoff to 2021 Graduates: 'Be Ready for Anything'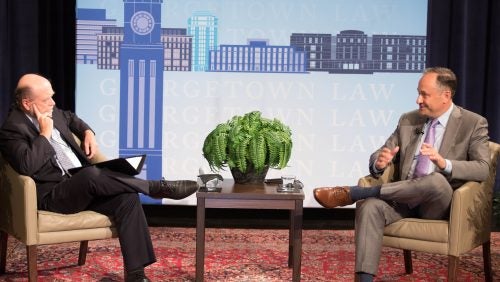 "When you have opportunities, you have to take advantage of them. Figure out a way to be comfortable in uncomfortable situations," said Distinguished Visitor from Practice Douglas Emhoff, addressing Georgetown Law's graduating students. "I teach that in class and I tell young associates all the time — don't be afraid."
Dean William M. Treanor welcomed Emhoff, the 2021 Dean's lecturer to the graduating class, for a conversation on May 20, kicking off a weekend of commencement activities. In recent years, Treanor has hosted Speaker of the House Nancy Pelosi, Henry Louis Gates, Jr., the late Supreme Court Justice Ruth Bader Ginsburg, Supreme Court Justice Elena Kagan, and John Podesta to speak at similar events.
"This is an event that I always look forward to," Treanor said in his introductory remarks to graduating students watching via Zoom. "In this challenging, difficult year, it's going to be an incredible bright spot for all of us."
A leading attorney in media, entertainment and intellectual property law, Emhoff joined the Georgetown Law faculty in January. He also serves as a distinguished fellow of Georgetown Law's Institute for Technology Law and Policy as part of a new entertainment and media law initiative.
In addition to discussing lessons learned from his 30 years in private practice, most recently at DLA Piper, Emhoff also fielded questions about his two new roles: law professor and — as the husband of Vice President Kamala Harris — the first Second Gentleman of the United States.
Opening Horizons
Treanor began the conversation with a question submitted by Niki Wasserman (L'21) and Alex Nealon (L'21), both students in Emhoff's spring semester class "Entertainment Law Disputes," about Emhoff's experience as a first-time teacher.
"It's the cliché of 'I learned more from my students than I taught them,'" Emhoff said, "but it connects you to what they're interested in, whether it's Alex with video games, or other issues. It really caused me to open my horizons."
"We would assign news for the first 10 or so minutes of class, because I feel to be a great practitioner, you have to know your industry, you have to love the industry," he continued. "So we had these conversations each week about the 'biz' as they call it. And we got into it. It got me to start researching things that I'd never thought I'd be looking at."
"I can't wait to do it again in the fall," he added.
An avid movie buff since childhood, Emhoff set his sights on becoming an entertainment lawyer early on in his career. It took him eight years to break into the industry. "My big break came when there was a spinoff from one of the big firms that focused on entertainment litigation," he said. "I knocked on doors and I kept pushing and I got hired." But then the unexpected happened — the firm dissolved shortly afterward. "This is what I tell students, you always have to be ready for anything."
Emhoff and a colleague formed their own highly successful firm in Beverly Hills, which was acquired by Venable in 2006. While at Venable, Emhoff took on a major case that now appears in many contracts casebooks, representing advertising agency TBWA in a suit brought by Taco Bell.
"It was part luck, but you make your own luck," Emhoff said. "It's not easy — none of this is easy. That's why it takes a lot of hard work, but also confidence and belief in yourself."
Standing Up for Justice
Emhoff's life changed in an instant last August with a phone call from then–presidential candidate Joe Biden, inviting Kamala Harris to join the ticket. "I liken it to one of those scenes in 'Men in Black' — the walls fall down and this whole team comes in with binders. I was out on the road within a week and I never came back," he said.
"There really is no rule book. Everything is new, everything is different," said Emhoff, responding to a question from Christina Peck (L'21) about his role as Second Gentleman. "You have to be willing, ready and able to jump in and do it.
"What I did was raise my hand to do whatever I could to help the administration succeed," he explained, adding that he'd traveled to 14 or 15 states in the administration's first 120 days, focusing on issues like COVID vaccinations, helping small businesses, and food insecurity. "A lot of it is going where needed, but also taking notes from the field."
The common thread running through Emhoff's roles as attorney, teacher and public servant is a deep commitment to justice, which inspired him to set his sights on law school at an early age. "I saw this profession as the way that you can stand up for other people," he said. "And it's … why I've continued to do it for 30 years and what I'm trying to instill in the students I've had so far.
"As it turned out, as I was meeting Kamala Harris, one of the things … that really connected us was that passion for justice, sticking up for folks and fighting unfairness."
Discussing his agenda going forward, Emhoff noted, "It's going to be grounded in the concept of justice," adding, "We want to do as much as we can to shine a light on issues that need a voice."