Georgetown Law Experts Reflect on Chauvin Verdict, What Comes Next for Racial Justice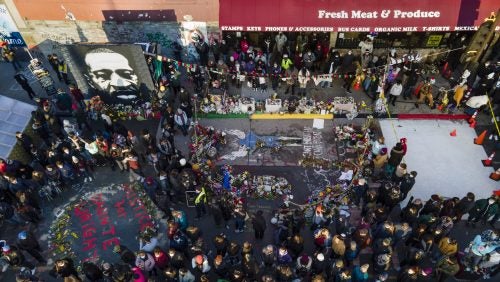 It was the most closely watched trial in years: former Minneapolis police officer Derek Chauvin faced charges of murder and manslaughter in the death of George Floyd, a tragedy that dominated headlines and sparked waves of protest for racial justice last summer.
In many other police incidents in recent memory, questionable use of force against Black people had not led to conviction — or even prosecution. This time would be different. On April 20, Chauvin was found guilty of all three charges brought against him.
Georgetown Law's faculty includes former prosecutors and public defenders, policing experts, civil rights scholars and more. During the trial and in its aftermath, many shared their views on the case, the verdict and what remains to be done to address racial bias in law enforcement and the legal system.
Students also shared their reactions and thoughts on what comes next at Zoom gatherings including a panel on the "Defund the Police" movement organized by the Georgetown Law chapter of the ACLU, and a community circle led by Dean William M. Treanor, Professor Anthony Cook, the Office of Campus Ministry and the Office of Equity and Inclusion.
Here is a sampling of recent reflections faculty shared with the media. Follow Georgetown Law on Twitter for more.
---
Professor Paul Butler on hearing the verdict against Chauvin:
"I didn't react as a former prosecutor or law professor or legal analyst, I reacted as a Black man. And so, I cried. This doesn't make up for Emmett Till or Breonna Taylor, but it does mean in our criminal legal system, one Black man's life mattered when he was killed by a police officer. And in the United States of America, that counts as progress."
Butler, the author of Chokehold: Policing Black Men, took part in a panel discussion on MSNBC's "The 11th Hour."
Professor Rosa Brooks on the need to train police officers to intervene when colleagues use excessive force:
"While the national media understandably puts a spotlight on Chauvin, we should not forget that three other Minneapolis police officers were also on the scene that day last May… American police departments urgently need to implement high-quality active bystandership training programs to reduce this kind of deadly passivity. These programs can't turn sadistic bullies into compassionate protectors, and they can't address the deep structural problems that plague American policing. But, by giving ordinary officers concrete skills to step in to prevent abuses, such training can save lives."
Brooks, the author of Tangled Up in Blue, a recent memoir of her time serving as a reserve police officer, wrote an opinion piece for Politico. She is a co-founder of the Innovative Policing Program, which developed the national Active Bystander for Law Enforcement (ABLE) Project to help communities build a police culture of peer intervention.
Professor from Practice Christy Lopez on the U.S. Department of Justice announcing it will investigate the Minneapolis Police Department:
"The Minneapolis Police Department has long been known to be troubled. Incidents [like this]… don't exist in a vacuum. They are allowed to persist because the culture supports that."
Lopez, who led similar "pattern-or-practice" law enforcement agency investigations when she worked for the Justice Department, was interviewed by CBS News.
Professor Kristin Henning on recent police killings of teenagers, including Ma'Khia Bryant in Columbus, Ohio, and Adam Toledo in Chicago:
"We know that young people are more likely to experience police force than adults, and that police use of force is more common with Black and brown children than with white children… I suspect that the fact that use of force is more prevalent with young people has a lot to do with what we know about adolescent development. Young people are emotional, impulsive; they don't think ahead to the long-term consequences, which creates these very rapid volatile situations. That is not to blame the victim at all. It is to say that police departments have to be trained to work effectively with young people and have an understanding of their behaviors."
Henning, director of the Juvenile Justice Clinic and Initiative and author of the forthcoming book The Rage of Innocence: How America Criminalizes Black Youth, was interviewed in Vox.
Associate Professor Tiffany Jeffers on her own reaction to the Chauvin verdict:
"I wasn't surprised. I was happy. I was grateful that George Floyd's family will receive justice through the criminal justice system, as they are entitled to. I thought to myself on a personal level what this means to the Black community at large, whether this is justice for us collectively, what it means for us. So I had questions. I was dealing with my own personal trauma, thinking about what this means as a lawyer, what this means as a Black woman, what this means as a law teacher, all while also feeling some sense of relief that the criminal justice system did in fact get it right this time."
Jeffers, a former Baltimore prosecutor, appeared on Bloomberg Law's podcast [Un]Common Law.
Associate Professor Vida Johnson on the Chauvin jury's performance:
"Jurors tend to take their role pretty seriously. I think that was probably even more true in such a high-profile case where you know that everything you're doing is being watched."
Johnson, a former public defender who co-directs the Criminal Justice and Criminal Defense & Prisoner Advocacy clinics, was quoted in a USA Today analysis of whether Chauvin received a fair trial.
Professor Sheryll Cashin on the role of integration in racial reckoning:
"The best way for others to be humanized is for you to make a friend that is not of your own race. If you got a situation where something like 75% of whites live in a very white space, how is that going to happen?"
Cashin, author of the forthcoming book White Space, Black Hood: Opportunity Hoarding and Segregation in the Age of Inequality, was quoted in a column for CNN.com.