Human Rights, Close to Home: Georgetown Law's Human Rights Institute Focuses on Domestic Matters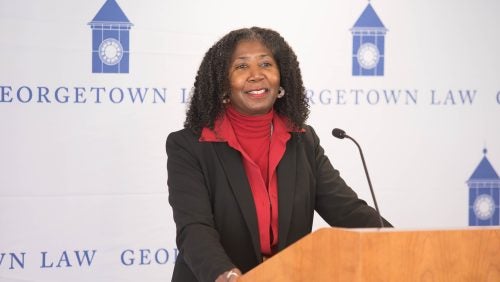 Every year, aspiring lawyers with an interest in human rights choose to study at Georgetown Law, whose Human Rights Institute (HRI) is a hub of training, scholarship and expertise.
Many of these future attorneys imagine globetrotting careers seeking justice for war crimes victims, representing political prisoners or advocating for refugees. During the most recent academic year, however, through its flagship annual events, the Institute trained its sights on opportunities to uphold human rights within the borders of the United States – and to understand how these domestic concerns connect to the greater framework of international human rights movements.
BROADENING THE LENS ON THE DEATH PENALTY
In March, the 2021-2 Drinan Chair in Human Rights, Diann Rust-Tierney, presented a lecture on "Race, the Death Penalty, and the Foundations of American Democracy." Rust-Tierney, former executive director of the National Coalition to Abolish the Death Penalty, spent her time at the HRI designing and teaching a seminar, Human Rights Advocacy: Lessons Learned from the Campaign to End the Death Penalty, and on collaborating with others across the Law Center on a variety of events and topics. Named for the late Father Robert J. Drinan, S.J., a Jesuit priest, Member of Congress and Georgetown Law professor, this chair brings a different human rights practitioner to campus each year.
In a wide-ranging speech, Rust-Tierney outlined how she had come to perceive the broader context around capital punishment in the United States, and to realize that the fight could not be only about this one issue or even this one country. Drawing on the concept of "caste" as presented in author Isabel Wilkerson's acclaimed work, and illustrating it with examples from history and politics, she explained that after years of arguing about the mechanics of the death penalty, she now saw it as an element in the construction and perpetuation of a huge system of racial injustice – one that will be dismantled only when disparate lawyers and activists come together around overarching goals.
"Why does it matter to the broader struggle for human rights? Because if we end the death penalty solely on the basis of cost, or 'it's too hard to get right,' we might win this particular incursion into human rights, but we'll be back here again until we win the day on values," said Rust-Tierney, continuing, "And the values are that human rights cannot be compromised, pragmatized, strategized or monetized away. There is no national interest that is more important than a universal standard of human rights."
DEMOCRACY AND HUMAN RIGHTS
The following month, HRI held its annual Samuel Dash Conference on Human Rights under the theme "The Role of Lawyers in a Democracy in Crisis."
In her opening remarks, HRI Executive Director Elisa Massimino – herself a past Drinan Chair – explained how she and her colleagues had chosen the focus for the event. The conference's namesake, Sam Dash, a longtime Georgetown Law professor and human rights advocate, is perhaps best remembered for his role as Chief Counsel of the Senate Watergate Committee in the 1970s. Fifty years after the Watergate break-in that ultimately ended Richard Nixon's presidency, and a year after the siege on the U.S. Capitol that attempted to reverse the results of the 2020 presidential election, the relationship between democracy and human rights seemed the most urgent issue to discuss.
"We reflected on the wisdom of Eleanor Roosevelt, a chief architect of the Universal Declaration of Human Rights, who reminded us that 'human rights begin in small places, close to home.' Without concerted citizen action to uphold them there, she said, we shall look in vain for progress in the larger world," explained Massimino.
"A truly democratic society is one in which everyone's human rights are respected. Democratic principles like the rule of law, non-discrimination and universal suffrage promote and protect human rights," she continued.
In a series of engaging panel discussions, Georgetown Law professors and guest experts talked about the role election lawyers play in defending the right to vote, and about how systemic racism threatens democracy. Sam Dash himself even made an appearance, in footage from a documentary about the Watergate investigation.
One session, moderated by Massimino, tied in the experiences of human rights advocates from other parts of the world. They not only shared their own stories of promoting democracy in Kenya, Hong Kong and Hungary, but also provided their perspective and advice on what the United States must do to protect systems here.
"What happens in the U.S. is watched and followed everywhere in the world," said panelist Maina Kiai. a Kenyan lawyer currently with Human Rights Watch. He said that he and others who have observed and lived under authoritarian leaders around the world had seen troubling signs in U.S. politics in recent years.
"Basically we know that DNA, we have studied it, so we understand it," he said.
Watch videos from all sessions of the 2022 Samuel Dash Conference on Human Rights here.
FROM WASHINGTON TO THE WORLD
As a new academic year begins, HRI is gearing up for another series of events. Soon, the Institute will announce the next Drinan Chair. Graduate students from around the world will arrive on campus to begin coursework for an International Human Rights Certificate. J.D. and LL.M students in the Human Rights Advocacy in Action Practicum will focus on crimes of genocide and sexual violence committed by the Islamic State against Yazidi minorities in Iraq.
Said Massimino, "Georgetown Law students are passionate about using their talents to make human rights real in people's lives – around the world, and right here in our own campus neighborhood. Our mission at HRI is to equip them to use that passion to fuel progress on today's most pressing human rights challenges."
To hear about upcoming HRI events and other news, join their e-mail list.