Georgetown Law Department of Public Safety
24-Hour Emergency Assistance Number: (202) 662-9325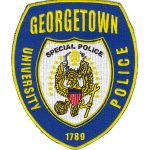 Our public safety team consists of about 30 special campus police officers and six police sergeants.
Our team has a diverse range of background, experiences and skill sets and we are an advocate of community policing.
We assign campus police officers, security officers and student guards to strategic locations, inside and outside of buildings throughout the campus community.
Our primary goal is to keep our campus safe. We do this by patrolling the campus on foot, utilizing our marked police vehicles, and bicycle officer patrols. Our campus police officers and security officers maintain the security of our campus by checking the identification of those who enter campus facilities without Georgetown University issued credentials.
Students, faculty, and staff can request a campus police officer escort to their vehicle by calling 202-662-9325, 24 hours a day. There is always a shift supervisor/Police Sergeant assigned to every shift.
DPS Officers are available 24 hours a day, 7 days a week.
Please Note: In the case that the Law Center's Department of Public Safety main telephone line (202-662-9325) is interrupted, the Law Center's DPS emergency back-up number is: 202-393-8190.