Our highly competitive one-year advanced degree program allows you think critically about national security law, work closely with faculty at the top of the field, and be at the center of the place where National Security law and policy are made.
Our location in Washington, D.C.– amidst government institutions and agencies, law firms, private contractors, technology companies, think tanks, and NGOs–gives our students unparalleled access and insight.
Our courses cover bioterrorism and public health, cyber law, the law of armed conflict, human rights, civil rights and civil liberties, intelligence law, maritime law, national security investigation and prosecution, nonproliferation, procurement, and foreign relations.
Our learning extends to substantial writing, sophisticated simulations, judicial proceedings, treaty construction, legislative drafting, and externships. And our vibrant intellectual community includes our Center on National Security and the Law, our Human Rights Institute, and our Journal on National Security and the Law.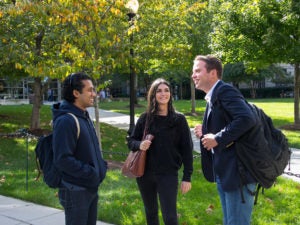 Our expertise in national security law is unparalleled. The depth and breadth of the faculty's experience in the field, the range of courses offered, the intellectual life of the institution, and the vitality our centers and institutes provide incredible opportunities in national security law.
Related Joint & Dual Degree Programs