William M. Treanor is Reappointed as Dean of Georgetown Law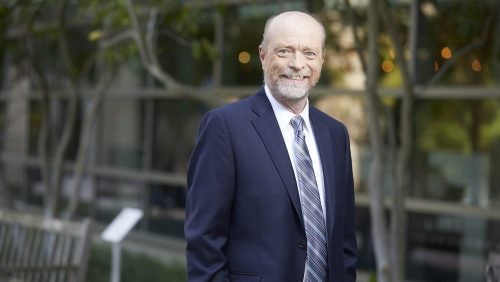 Dean William M. Treanor has been reappointed as executive vice president and dean of Georgetown University Law Center.
Treanor was first appointed dean in 2010 and will begin his third five-year term on July 1. He is the 16th dean to lead Georgetown Law since its founding 150 years ago.
Georgetown University President John J. DeGioia announced Treanor's reappointment today, noting it was based on extensive review of feedback from across the Law Center faculty and staff, university colleagues, and the university's board of directors. DeGioia commended Treanor's vision, imagination, and responsiveness during a time of significant change in American legal education and practice.
"During this current moment of unprecedented challenge – for higher education, our nation, and our global community – we are deeply fortunate to continue to benefit from Dean Treanor's thoughtful and discerning leadership, now and in the years to come," DeGioia said in a message to the university community.
Treanor expressed his gratitude to President DeGioia, to the Georgetown community, to the Law Center faculty, staff, and students, and to alumni and friends for supporting his work over the past decade.
"It is a privilege to lead Georgetown Law, a school with a deep sense of community and a profound commitment to our motto that 'Law is but the means, justice is the end,'" Treanor said.
"I'm extremely proud of our students, faculty, staff, and graduates, so many of whom are addressing the considerable challenges that individuals and communities are now confronting," Treanor said. "As we navigate this time of disruption caused by the pandemic, I remain fiercely committed to serving our students and the larger community through accessible and well-rounded legal education that is grounded in excellence, innovation, and service."
Treanor is an accomplished scholar who has focused on constitutional history and is a nationally recognized leader in legal education. He was recently elected to the American Academy of Arts and Sciences, holds Georgetown Law's Paul Regis Dean Leadership Chair, and previously served as dean of Fordham University School of Law in New York City.
Treanor is uniquely positioned to adapt Georgetown Law's mission and operations to meet the demands of a challenging era, having successfully steered the Law Center through the aftermath of the 2008 financial crisis and compassionately led the Fordham Law community in the years following the 9/11 attacks. The Jesuit concept of cura personalis, or care for the whole person, has long animated his approach to leadership.
As dean, Treanor has overseen Georgetown Law's most successful era of fundraising, culminating in an annual record of over $40 million raised in 2019 and vastly expanded the Law Center's pioneering clinical, externship, and practicum programs. He has hired 60 new full-time faculty members across the Law Center, and deepened the Washington-based school's focus on tackling critical global challenges with innovative legal and policy solutions. Georgetown Law now boasts 21 centers and institutes across diverse areas of law and policy, including new additions during Treanor's tenure covering areas such as constitutional law, workers' rights, and technology.
Recognizing the need for lawyers and policymakers to adapt to the novel demands of the digital age, Treanor has worked to develop Georgetown Law's world-class program in law and technology. Under his leadership, the Law Center has expanded its offerings in the area to 70 courses and established the Institute for Technology Law & Policy, the Center on Privacy & Technology, the Georgetown Law Technology Review, the Technology Scholars Program, and, most recently, two new graduate programs — including the first-of-its-kind Master of Law and Technology for non-lawyers.
Advancing Georgetown Law's commitment to affordability and access has been a major priority for Treanor. Under his leadership, Georgetown has more than doubled financial aid, raised nearly $20 million dollars for the Law Center's scholarship program for exceptional students with significant financial need, and launched programs to recruit and support historically underrepresented groups of students.
He has also focused on increasing opportunities for students to pursue careers in public interest law, including establishing the Blume Public Interest Leaders program, new post-graduate public service fellowships, and launching the DC Affordable Law Firm, a "low bono" law firm staffed by recent Georgetown Law graduates that provides legal services for people of limited means.
Treanor has overseen the creation of other innovations, including a Business Law Scholars program, a new Office of Equity and Inclusion and, together with the medical school, the Health Justice Alliance, a medical legal partnership committed to providing fair access to health and justice resources.
Treanor, who holds a Ph.D. in history from Harvard University and a J.D. and B.A. from Yale University, revealed in his most recent scholarship that a "dishonest scrivener," Gouverneur Morris, surreptitiously made numerous subtle but substantive changes to the final text of the U.S. Constitution. He currently teaches an advanced constitutional law seminar at Georgetown and began his academic career at Fordham in 1991.
He has also held a variety of government positions, including serving as deputy assistant attorney general in the U.S. Justice Department's Office of Legal Counsel, associate counsel in the Office of Independent Counsel during the Iran/Contra investigation, special assistant to the chair of a New York state commission investigating political corruption, and a speechwriter for the United States Secretary of Education.