Live-In Staff
The Gewirz Student Center has live-in staff who offer a mix of guidance and support to students.
Resident Fellows
Resident Fellows create a welcoming and safe community for the students living on campus. Using their experience and connections, they help residents make the most of Washington, DC and Georgetown Law. The individual relationships they form with residents help meet students where they are. The group events they organize bring the best parts of Georgetown Law into the residential community. Keep reading to learn more about this year's team of Resident Fellows or visit the Become a Resident Fellow page to learn more about joining the team next year.
Meet the Resident Fellows for Academic Year 2022-23
Anny Yang: Floors 2, 4, 5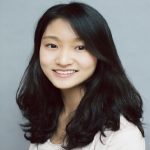 My name is Anny Yang, and I am a 3L. Outside of law school, I enjoy running and somewhat recently fell in love with hiking. If you know a good hiking spot near DC, please let me know! As a fun fact, I am fluent in Korean.
Omar Elsaai: Floors 2, 4, 5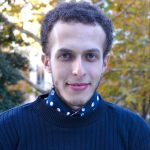 Omar (he/him/his) grew up in Elizabeth, New Jersey to immigrant parents and an older sister. One of the few Muslim families in his neighborhood, he only became involved in the Muslim community when he went to college at Emory University in Atlanta, Georgia, where he graduated with a degree in Economics and Political Science. A student of red-lined and underfunded education system, Omar entered law school with the intent of empowering refugee and immigrant communities through educational equity and improving access to higher education. On top of being a resident fellow, Omar is a general member of the Muslim Law Student Association (MLSA) and Law Students for Justice in Palestine (LSJP). For his 1L summer, Omar was a 1L LCLD scholar at Gibson Dunn LA. During his free time, Omar enjoys working our and traveling – this past year alone, Omar has traveled to Tulum, Budapest, Prague, Berlin, Cairo, Sharm el-Sheikh, and Palestine. He's hoping this upcoming year, he can visit Cuba, Croatia, and Jordan!
Chibunkem Ezenekwe: Floors 6 and 7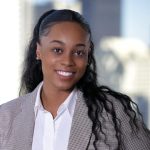 Chibunkem Ezenekwe is a 3L student at Georgetown University Law Center. She is from Los Angeles, California and graduated from the University of California, Los Angeles in 2019 where she majored in Sociology. At the Law Center, she is a member of BLSA and RISE. She is also a student attorney in the Georgetown Law Criminal Justice Clinic, Editor-in-Chief of the Georgetown Journal of Legal Ethics, and a member of the Barristers' Council: Trial Advocacy Division.
Andrea Khattabi: Floors 8 and 9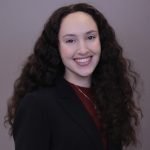 My name is Andrea Khattabi, and I am a 3L planning to work in a transactional/regulatory practice at a law firm in NYC. I am the Advocacy Chair for the Middle Eastern and North African Law Students Association, a member of the Georgetown Journal of Legal Ethics, and last year I served as the President of the Arab Law Students Association. In my free time, I enjoy going on walks, playing tennis, and cooking and eating with my friends.
Issraa Faiz: Floors 10 and 11
Issraa (she/her) was born in Massachusetts and grew up in the Greater Boston area. She is proud of her New England roots and has a deep love of Fall activities, fashion, and baked goods. Issraa went to Connecticut College for her undergraduate studies where she majored in International Relations, minored in Film Studies, and Africana Studies, and received a certificate in Public Policy and Community Action. After graduating college, Issraa worked at the International Institute of New England, a refugee and immigration non-profit, and then later worked as a litigation paralegal at a boutique law firm in Boston. At Georgetown Law, Issraa is the executive director of the International Refugee Assistance Project and a research assistant at the Human Rights Institute. Issraa spent her 1L summer internship at the Tahrir Institute for Middle East Policy. For fun Issraa is training for her second half-marathon and attempts to try one new coffee shop every month!