The war isn't over, but Ukraine is already prosecuting Russian crimes
"Russians who've committed war crimes in the Ukraine may be counting on the conventional wisdom that accountability for such acts — if it comes at all — will be many years in the future. But that assumption is about to be upended," write Elisa Massimino, Greg Bloche, and Mark Fallon.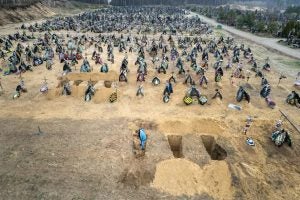 A grave digger prepares the ground for a funeral at a cemetery in Irpin, Ukraine on April 20. (John Moore/Getty Images)
Read Elisa Massimino, Gregg Bloche, and Mark Fallon's opinion piece in the Washington Post here.