Ensuring Every Undocumented Student Succeeds:
A Report on Access to Public Education for Undocumented Children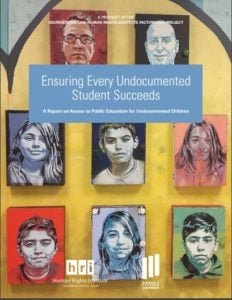 April 11, 2016 – Recent raids by Immigration and Customs Enforcement (ICE) officials at public schools have had a chilling effect on the education of recently arrived children – including those seeking asylum from the violence in Central American – according to a report published today by Georgetown University Law Center's Human Rights Institute (HRI) and the Women's Refugee Commission.
The report, Ensuring Every Undocumented Student Succeeds: A Report on Access to Public Education for Undocumented Children, found a lack of awareness or resources in public school systems create obstacles to school enrollment for undocumented children.
"U.S. law is clear on this point –no child in the United States should be excluded from public education," said Mikaela Harris, a Georgetown Law student and co-author of the report. "What we found is that that doesn't always play out in practice."
One social worker recounted the story of a 13-year-old who loves school but is now afraid to wait outside for the bus. Another advocate made clear that a lot of kids are dropping out because they are scared to even try to go to school.
The report calls for districts and schools to improve policies that discriminate against undocumented students and inhibit their education, and for both ICE and educational bodies to develop policies that protect a child's access to education from the chilling effects of ICE raids.
"Our research identified violations of both U.S. and international law in providing educational opportunities for these children," said Jennifer Podkul, Senior Program Officer at the Women's Refugee Commission.
"Discouraging undocumented children from enrolling or otherwise discriminating against them in the public education system contradicts our country's fundamental values of providing equal opportunity for all," said Caitlin Callahan, a Georgetown Law student and co-author of the report.
HRI is the focal point of human rights at Georgetown University Law Center and helps ensure its place as a center of excellence in human rights teaching and training as well as in producing policy-relevant and influential human rights ideas and research.
The Women's Refugee Commission improves the lives and protects the rights of women, children and youth displaced by conflict and crisis. We research their needs, identify solutions and advocate for programs and policies to strengthen their resilience.
The report launch was held during the 2016 Samuel Dash Conference on Human Rights.
Media contacts:
mediarelations@law.georgetown.edu
Raimy Reyes, rr958@georgetown.edu
Additional Resources:
The additional resources accompanying this report were developed with the assistance of the Georgetown Law Federal Legislation and Administrative Clinic.
Webinar: Education Rights – Standing Up for Kids
Fact-sheet: Children Have the Right to Go to School
Fact-sheet: How to File a Complaint with the U.S. Department of Education Office of Civil Rights
Fact-sheet: Information For Community Stakeholders: Recent Immigration and Customs Enforcement (ICE) Raids
Media Coverage of the Report:
Garance Burke, Report: Immigrant Children Blocked from Enrolling in School, Associated Press, April 11, 2016 (also appearing in the Washington Post).
A. Martinez, Report: Public Education Inaccessible to Immigrant Students in Some States, Southern California Public Radio (KPCC), April 11, 2016.
Laura Rivera, Escuelas Públicas Que Cierran Puertas a Estudiantes Indocumentados Violan la Ley, Diario Las Americas, April 13, 2016.
Obstaculos para la Educacion de Ninos Indocumentados, Telemundo, April 14, 2016.
Michele Waslin, Undocumented Children Face These Challenges in Accessing Public Education, Immigration Impact (American Immigration Council), April 14, 2016.
Simon Carroll, GULC Report Finds Undocumented Students Face Significant Hurdles, The Hoya, April 19, 2016.
Tim Walker, How Undocumented Students are Turned Away from Public Schools, NEA Today, April 22, 2016.
Emily Deruy, Across the Border and Into School, The Atlantic, August 20, 2016.