Co-Director, Center on Inclusive Trade and Development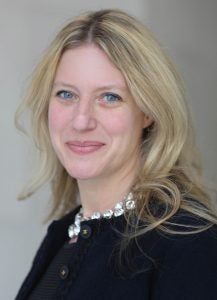 Katrin Kuhlmann brings uniquely diverse experience to her role as co-director of the CITD. Her career began in private legal practice with a focus on international trade, energy, and project finance, followed by a move to USTR, where she negotiated over non-tariff measures, led bilateral intellectual property rights commissions with developing economies, spearheaded trade and gender initiatives, and designed and led negotiation of a regional Trade and Investment Framework Agreement (TIFA) with Central Asia. That TIFA was the first economic agreement of its kind that is still used as a basis for economic engagement and development.
After leaving USTR, Kuhlmann focused on how trade and development work in the field, leading non-profit and think tank initiatives focused on trade and gender, regional trade with and within Africa, food security, special and differential treatment and trade preference programs. In 2010, she founded the New Markets Lab(NML), a law and development center active in Africa and Asia to pioneer a bottom-up approach to using law as a driver for sustainable and inclusive development. NML has partnered with foundations, governments, local and international institutions, and, most importantly, vulnerable communities, to support legal innovations, highlight good practices from national law and regional trade agreements, and build legal capacity among lawyers and non-lawyers alike. Her work at Georgetown Law has focused on research, writing, and teaching in the areas of international trade, development, and comparative economic law. She has consistently worked to bring a bottom-up approach into the classroom, legal scholarship, and high level policy discussions while helping to shape the future of inclusive and sustainable trade and development.
Affiliations
Senior Associate, Center for Strategic and International Studies, Global Food Security Program
Advisory Committee Member, Trade Advisory Committee on Africa, Office of the U.S. Trade Representative
Member, Trade and Investment Law Group, Law Schools Global League
Member, WTO Gender Research Hub
Member, Bretton Woods Committee
Vice President of the Board, Listening for America
Board Member, Washington International Trade Association (WITA)
Board Member, Malaika Foundation
Advisory Board Member, BlockDrop (legal-tech company)
Advisory Board Member, Harvard Law and International Development Society
Advisory Council Member, Yeutter Institute of International Trade and Finance at the University of Nebraska-Lincoln
Expert Member, E15 Working Group on Trade, Development, and Finance, World Economic Forum
Co-Chair, Aspen Institute, Aspen Network of Development Entrepreneurs, Policy, Legal, and Regulatory Learning Lab (co-founder and chair Legal Working Group)