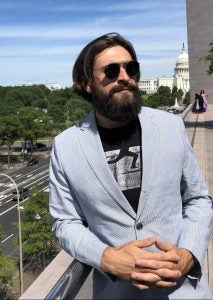 Grant Black is a 1L JD candidate at Georgetown Law with his sights set on fighting the climate crisis. Prior to attending Georgetown Grant was a climate activist and grassroots organizer. As a climate activist he has utilized a range of tactics to address the climate crisis ranging from climate strikes, targeted direct actions, meetings with congressional representatives and other policy makers, green microfinancing, grassroots community building, and intersectional advocacy work.
Within the Institute for international economic law he plans to bring his fight to the realm of equitable international development, finance, and trade.
Grant is from Berkeley, California. He is an Eagle Scout and a Spanish guitarist. He enjoys economics podcasts in his free time and joining protests when he isn't reading for school.