Georgetown Law's Year in Review 2022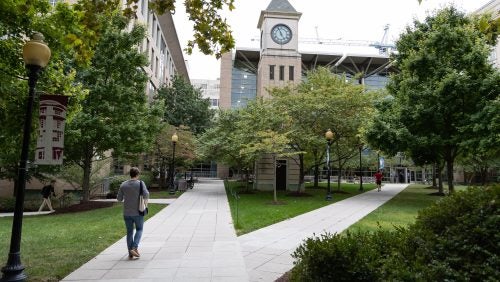 From the newsmaking research and successes of our faculty and centers and institutes to students making the most of studying law in Washington, D.C., it's been an exciting year at Georgetown Law! Join us as we take a look back at some memorable moments from 2022.
1. Georgetown Law Responded to the Nationwide Eviction Crisis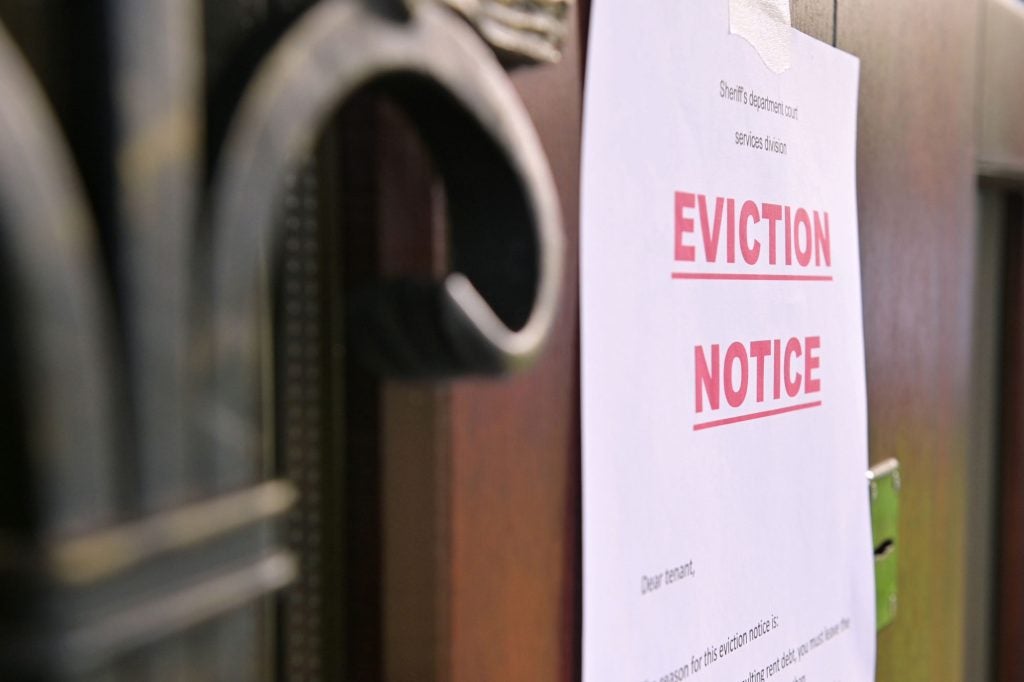 The COVID-19 pandemic put millions of Americans at risk of losing their homes. Students at 99 law schools worked to help prevent evictions for more than 10,000 families, through an effort spearheaded by Dean William M. Treanor and his counterpart at NYU Law.
Here at the Law Center, students in two clinics strengthened their clients' housing security, and other students volunteered with local emergency support programs.
---
2. Center on National Security Takes Key Role in Prosecuting War Crimes in Ukraine
Through a grant from the U.S. State Department, the Georgetown Law Center on National Security has begun coordinating international efforts to assist the Ukrainian government's investigation and prosecution of war crimes in their country during the continuing Russian invasion.
"The scale of war crimes committed in Ukraine is horrific and ongoing, and the work of securing justice for the victims is urgent. We have to do our part to show the world that the 'law matters'," said Anna Cave, Executive Director of the Center for National Security and co-principal investigator on the Ukraine Justice Project.
---
3. BLSA women attend hearings on Justice Ketanji Brown Jackson's nomination to SCOTUS
Eleven women members of the Black Law Students Association (BLSA) witnessed history on the Hill in March when Supreme Court Justice Ketanji Brown Jackson testified at her confirmation hearings. "As Black women, we only make up two percent of the entire legal profession. So we really always have each other's back… I'm so grateful that I had the experience to support her," said Jade Baker (L'22). The opportunity was made possible through Sen. Dick Durbin (F'66, L'69) and Sen. Patrick Leahy (L'64, H'94).
---
4. Live reunions returned to Georgetown Law – Twice!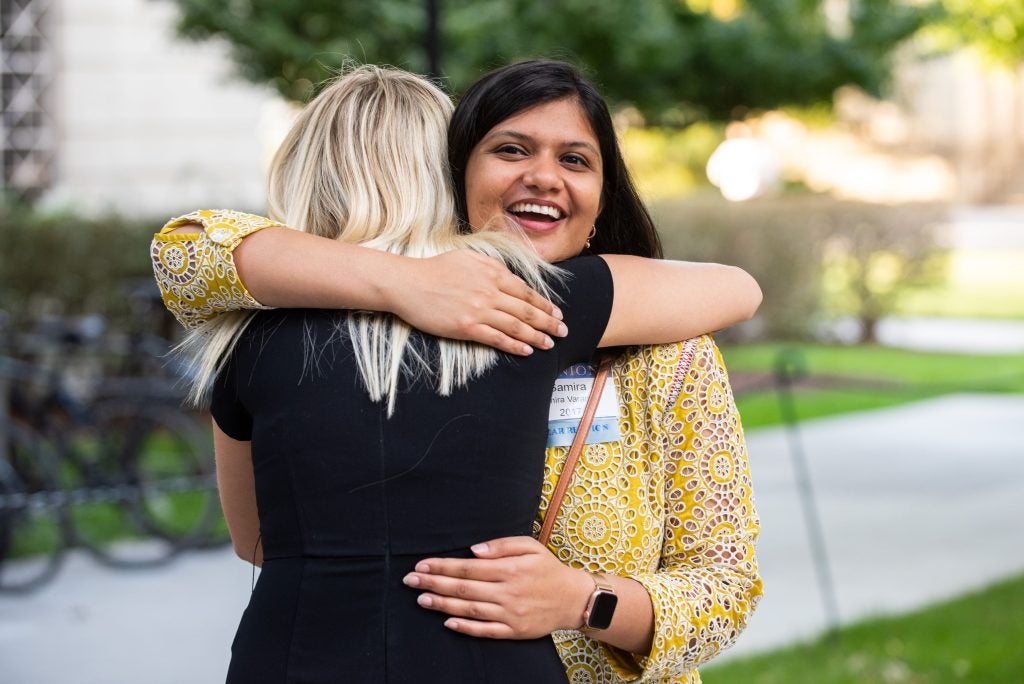 2022 offered Georgetown Law's amazing alumni community several opportunities to reconnect and reminisce! In addition to hosting our first fall reunion celebration since 2019, the Law Center also held a spring reunion and a special celebration weekend for the classes of '20 and '21.
---
5. We celebrated our latest graduating class of Georgetown lawyers, legal scholars and community leaders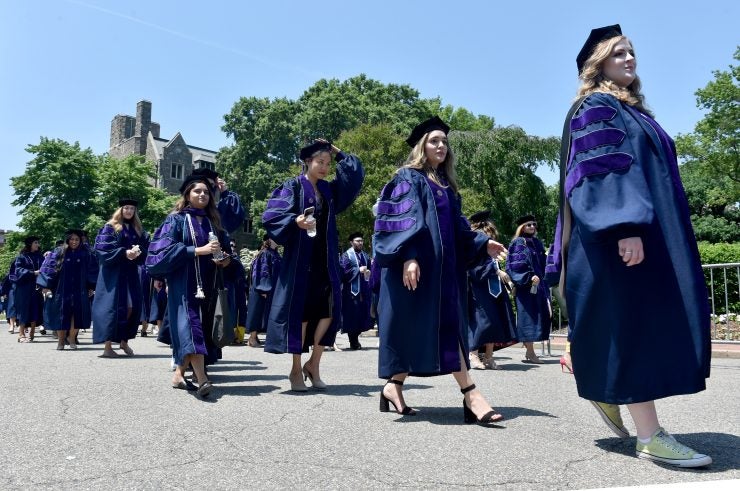 "We learned we are capable of shouldering and enduring more than we might think… and we do so – usually – with tremendous grit and grace." – James "JD" Darlson (L'22)
Our 2022 graduates were honored with a series of ceremonies, touching not only on the hardships of the past three years but the persevering spirit and drive that will take them far in their budding legal careers.
---
6. Supreme Court Justices and other legal VIPS enlightened campus audiences throughout the year
Current and former editors of the Georgetown Law Journal heard personal reflections from Supreme Court Justice Sonia Sotomayor in a conversation moderated by Editor in Chief Agnes Lee (L'22).
Justice Stephen Breyer engaged in a lively comparative law discussion with N.V. Ramana, Chief Justice of the Supreme Court of India, via webinar, and Justice Amy Coney Barrett spoke at a memorial event for one of her mentors, Judge Laurence H. Silberman, who sat on the U.S. Court of Appeals for the D.C. Circuit and was a longtime visiting professor at the Law Center.
---
7. Our Faculty Welcomed Nine New Professors
A bumper crop of distinguished scholars joined the Georgetown Law faculty this year: nine new professors came on board, bringing their expertise in taxation, international economic law, housing policy, legal writing and much more. As a bonus, three are Georgetown Law alumnae!
---
8. More Than 1,000 Students Joined the Georgetown Law Community
With activities including tours across the nation's capital, a Faculty Moot Court and celebratory block party, Orientation Week 2022 offered our newest J.D. and LL.M. students early opportunities to meet each other, prepare for the studies ahead and build community.
9. The Center for the Constitution Unveiled an "Interactive Constitution"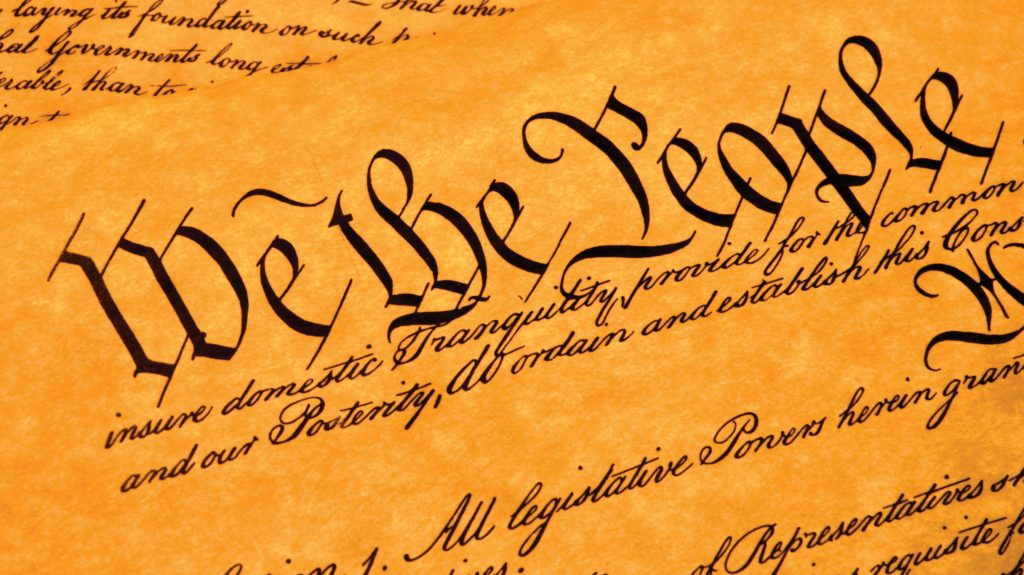 During its tenth anniversary gala, the Georgetown Center for the Constitution launched the "Interactive Constitution" Project – an online guide to the U.S. Constitution, referencing over 1,500 scholarly documents embracing an originalist approach to constitutional interpretation.
---
10. Camp SCOTUS: Georgetown Law students wait overnight for coveted tickets to oral arguments
With the Supreme Court admitting live audiences for the first time since the beginning of the pandemic, Ryan Lee (L'25), Anne Mummery (L'24) and Jane Sul (L'25) gathered pool floats and air mattresses and spent the night on the sidewalk outside the U.S. Supreme Court for a chance to watch oral arguments for some of the hottest cases on the Court's docket.