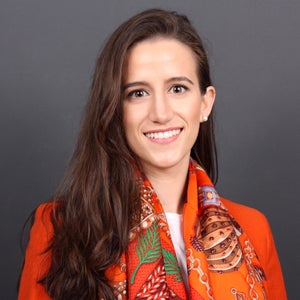 aa2253@georgetown.edu
Country
Spain
Education 
LL.M. in National Security Law, Georgetown University Law Center (Thomas Bradbury Chetwood, S.J. Prize, Distinction & Dean's List graduate, "La Caixa" Fellow); Double Masters in Legal Practice and Corporate Law, Universidad de Navarra (Promotion of Excellence Scholar); LL.B., Universidad de Navarra ("Honors Program" Mention of Excellence graduate)
Faculty Advisor
Milton Regan
Areas of Study
Outer-Space Law, National Security, International Humanitarian Law
Almudena's scholarly interest lies in the intersection between outer space law and security and defense. In her S.J.D. project, she explores the role that dual-use space technology —assets useful for both military and civil and commercial purposes— plays in transforming outer space into a weaponized domain, focusing on the legal implications this has for the different actors in space and with the goal of preventing space from becoming a theater of conflict.
Almudena received her LL.M. in National Security Law from Georgetown University, where she was the recipient of Georgetown's Thomas Bradbury Chetwood, S.J. Prize for the most distinguished academic performance in the program. Almudena is admitted to practice law in Spain, and prior to her studies at Georgetown, she was a practicing attorney at Spanish law firm Uría Menéndez, where she specialized in international arbitration and litigation.
During her undergraduate studies, she interned at the Spanish Permanent Mission to the UN, where she focused on matters relating to the Security Council and the Committee on Disarmament and International Security, and assisted in the preparation of the successful campaign of Spain to the Security Council for the 2015-2016 biennium.