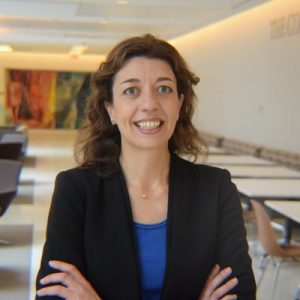 cp1075@georgetown.edu
Country
Italy
Education
LL.M., The George Washington University Law School, 2019; LL.M. in Energy and Environmental Law, The George Washington University Law School, 2011; M.S.A. with focus on the Cultural Heritage, University of Rome Tor Vergata, 2007; First Degree in Law, La Sapienza University of Rome, 2004.
Awards & Honors
Student Pro Bono Service Award 2011
Faculty Advisor
Sheila Foster
Areas of Study
Energy Law; Environmental Law; Climate Change
Chiara's research focuses on sustainable development, energy and environmental governance and the interplay between international, national, and local laws and regulations in these fields. She is particularly interested in the environmental and land use implications of the emerging energy infrastructure, across all of its dimensions, both nationally and internationally. Her SJD project explores legal and regulatory barriers that hinder the attainment of national decarbonization goals and impair access to clean energy in local communities. Another part of her dissertation looks at these challenges in the context of sustainable corporate practices in Europe and the United States.
Together with Professors Sheila Foster and Meryl Chertoff, she currently leads a one-year project by the Georgetown Project on State and Local Government Policy and Law funded by the Earth Commons Institute that asks what a just transition and energy democracy looks like, which levers are being developed by federal, state and local governments, and how international best practice models can assist local communities in efforts to push down decision-making on energy to affected communities. She has also worked with the Georgetown Climate Center on state and federal clean transportation initiatives and has co-founded and served for two years on the board of the Georgetown Energy Law Group, a student organization seeking to expand learning and networking opportunities in the field of energy law.
Chiara has four years of litigation and transactional experience with civil, commercial, corporate, and private international laws. In Italy, in addition to private practice, she also served as legal specialist in the Office of the General Counsel at the Ministry for Cultural Goods and Activities in Rome advising on matters related to the protection of the cultural heritage and landscape. In the United States, she participated in a foreign-trained lawyers program with Fulbright & Jaworski LLP (now Norton Rose Fulbright) at their corporate and securities law division in Washington DC where she assisted the firm on a multi-million-dollar special purpose acquisition company deal and a Foreign Corrupt Practices Act investigation by the U.S. Securities and Exchange Commission. Prior to her SJD admission, she collaborated with the Environmental Law Institute on a project funded by the Tinker Foundation involving the implementation of the right to water in Mexico and was a research scholar and professional lecturer in law at American University Washington College of Law where she taught courses on international energy law and trade policy.
Her research has been published by the Georgetown Environmental Law Review, the Michigan Environmental and Administrative Law Review, the IUCN Academy of Environmental Law and other leading publications and can be accessed at her SSRN Author Page. She has recently co-authored with Professor Sheila R. Foster a chapter on local initiatives for the 3rd edition of the Global Climate Change and U.S. Law compendium by the American Bar Association. She also writes in the SLoG Law blog, a collaboration of several law school faculty and centers to foster ongoing dialogue and analysis of a range of state and local issues.