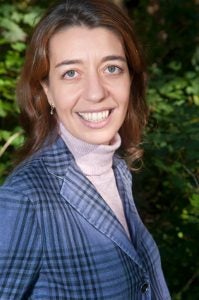 Country
Italy
Education
First degree in Law, University of Rome La Sapienza, 2004; M.S.A. with focus on the Cultural Heritage, University of Tor Vergata in Rome, 2007; LL.M. in Energy and Environmental Law, The George Washington University Law School, 2011; LL.M. General, The George Washington University Law School, 2019
Awards & Honors
Student Pro Bono Service Award 2011
Faculty Advisor
Sheila Foster
Areas of Study
Energy Law; Environmental Law; Climate Change
Chiara's research project seeks to explore the role of local and indigenous knowledge in advancing sustainable energy and water conservation goals and improving decision-making and management synergies between these two key areas of climate adaptation and mitigation. Her research interests also include regulatory integration and harmonization challenges arising from global decarbonization efforts.
Chiara has been assisting the Georgetown Climate Center with state and federal clean transportation initiatives. She co-founded and is a board member of the Georgetown Energy Law Group.
Chiara is admitted to practice law in Italy, and was trained both in Italy and in the United States. She has five years of litigation and transactional experience in civil, commercial, and corporate laws. In Italy, in addition to private practice, Chiara served for a year in the General Counsel's office of the Italian Ministry of Cultural Heritage and Activities in Rome, where she received formal praise for her dedication, work ethics, and strict confidentiality.
In the United States, Chiara participated in a Foreign Trained Lawyers Program with Fulbright and Jaworski LLP (now Norton Rose Fulbright) Corporate and Securities Law Practice in Washington DC and assisted the firm on several corporate matters involving Italian and U.S. clients including a multi-million dollar special purpose acquisition company deal and an FCPA investigation by the Securities and Exchange Commission.
Prior to her admission to Georgetown Law, Chiara was a research scholar and a professional lecturer in law at American University Washington College of Law where she taught courses on International Energy Law (spring) and Trade Policy and Diplomacy (summer).