Sebastian Luengo-Troncoso
Country: Chile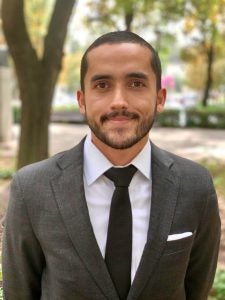 Education: Environmental and Energy Law LL.M. (Distinction), Georgetown University, 2022; Regulatory Law LL.M. (Maximum Distinction), Pontifical Catholic University of Chile, 2018; J.D. (Distinction), Pontifical Catholic University of Chile, 2014.
Faculty Advisor: William W. Buzbee
Areas of Study: Energy Law, Environmental Law, Comparative Law.
Sebastian is a lawyer (J.D.) and LL.M. in Regulatory Law from Pontifical Catholic University of Chile, who came to Georgetown Law to obtain his Environmental and Energy Law LL.M. as an UNEP-Georgetown Global Environment and Sustainability Fellow in 2021.
Sebastian practiced with two Chilean private law firms specialized on environmental law, where he litigated before environmental courts, higher courts, and advised many environmental impact assessment procedures. After that he joined the Environmental Legislation and Regulation Department of the Chilean Ministry of the Environment, where he worked in regulations to protect the water quality of lakes and rivers, as well as reviewing the climate change framework law draft, which seeks to set the legal structure for adaptation and mitigation policies in the country. More recently, Sebastian worked as a Visiting Attorney at the Environmental Law Institute (ELI) in Washington D.C., where he joined the Research & Policy team, improving his knowledge and understanding of legal and policy research mechanisms to address sustainable development challenges in developing countries.
In parallel he has taught Environmental Law and Natural Resources courses at the Law School of Pontifical Catholic University of Chile, and at the Economics and Business School of Diego Portales University. He is currently Teaching Assistant at multiple Georgetown Law courses, including the Environmental Law Scholarship Workshop, and Advanced Legal Scholarly Writing, where teaches a Writing Workshop for the incoming LL.M. students.
Law review scholarship includes over fourteen articles in English and Spanish, in three countries, in the Environmental Law Reporter, McGill Journal of Sustainable Development Law, Energy Law Journal, The George Washington Journal of Energy and Environmental Law, Revista de Derecho (Coquimbo), Revista de Derecho Ambiental (UChile), among others. He also published a book on the Chilean Environmental Impact Assessment System, prologued by Professor Jorge Bermúdez Soto, General Comptroller of the Republic of Chile. His work has already been cited in Chile by the Environmental Courts, the Supreme Court, and Congress bills.
Sebastian is currently focused on complex energy, environmental, and regulatory crossovers during rule-making procedures and policy-making.  He is particularly interested in the role of regulations within contemporary energy policy frameworks, and how regulatory structures work (or not) in the face of emerging challenges such as the energy transition, expansive presidential administrations, water conservation, climate change governance, and indigenous communities.
Sebastian's proposed doctoral dissertation is focused on the regulatory challenges of energy law governance during the adaptation of legal frameworks to achieve a timely energy transition, and how to overcome them. Specifically from the perspective of adaptive governance, indigenous communities, and adversarial regulatory spaces both within the US, and from a comparative perspective.
SSRN Profile: https://papers.ssrn.com/sol3/cf_dev/AbsByAuth.cfm?per_id=4886604
Google Scholar Profile: https://scholar.google.com/citations?user=WSkA3E4AAAAJ&hl=en