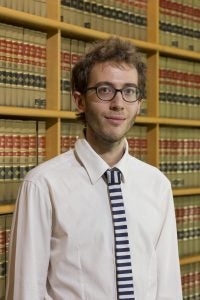 Country
Israel
Education
LL.M. (Legal Theory), New York University (2018); LL.B., B.A. (Philosophy, Magna cum Laude), Tel Aviv University (2014).
Faculty Advisor
Robin West
Rafi is an S.J.D. candidate and an adjunct professor of law at Georgetown Law. He studies and teaches substantive criminal law, combining normative criminal jurisprudence with methods drawn from the interpretive humanities, including political theory, cultural analysis, and literary criticism. His focus is on American self-defense, analyzed as a public institution rather than a moral conundrum. As such, Rafi argues that self-defense in the United States serves to re-legitimize violence and insidiously permeates the articulation of notions of civic and social personhood, across demographic and ideological divides.
Rafi has published award-winning articles as well as book chapters, essays, book reviews, and blog posts, in publications such as Berkeley Journal of Criminal Law, Law, Culture and the Humanities, and Stanford Law Review Online. He has written on topics ranging from prison abolitionism, nonviolence, and the Second Amendment, through comparative constitutional interpretation and International Humanitarian Law, to the Bluebook. Rafi's scholarship in Hebrew has been cited by the Supreme Court of Israel. He has presented his work at conferences and workshops in leading universities including Yale, McGill, Melbourne, Tel Aviv, and Cornell. Prior to his graduate studies, Rafi served as a Senior Law Clerk at the Supreme Court of Israel.