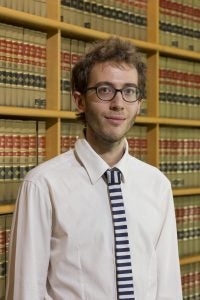 Country
Israel
Education
LL.M (Legal Theory) New York University 2018; LL.B., B.A. (Law, Philosophy) Tel Aviv University 2014 (Magna cum Laude)
Awards & Honors: Honorable Mention for the Colin B. Picker Graduate Prize, American Society of Comparative Law; Scholarship from the Foundation for Higher Education and Culture (Liechtenstein); N.Y.U. Dean's Graduate Award; TAU Law and Humanities Fellowship
Faculty Advisor
Robin West
Areas of Study
Criminal Law; Moral and Political Philosophy; Interpretation
Rafi's scholarly passion lies in the nexus between public law and the Humanities. In his SJD project, tentatively titled "The Liberal Self in Self-Defense," Rafi explores the ways in which developments in self-defense doctrines – in criminal, constitutional and international law – reflect, and in turn shape the meaning of liberalism today. Currently, he is studying the link between self-defense and social contract theory as construed by Second Amendment jurisprudence (working title: "Hobbes v. Heller").
In prior projects, Rafi critically analyzed the intersections of moral and political philosophy with various other sites of public law, including the movement for prison abolition; methods of judicial interpretation; domestic application of International Humanitarian Law; and regulation of government lawyers.
His LL.M. Thesis, in which he argued that recent judicial and political reinterpretations of conservatism pose an unprecedented challenge to Israeli Legal Liberalism, reminiscent of the backlash American Legal Liberalism faced in the 1980s, was awarded the 2019 Honorable Mention for the Colin B. Picker Graduate Prize by the Younger Comparativists Committee of the American Society of Comparative Law. Prior to his graduate studies, Rafi served as a Senior Law Clerk to the Honorable Justice Anat Baron of the Supreme Court of Israel.