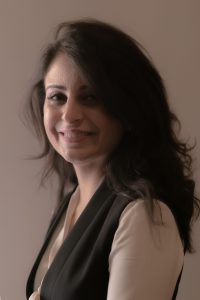 Country
United States
Education
B.A., University of Kansas (Human Biology and International Studies) 2006; J.D., University of Kansas School of Law (Certificate in International Trade), 2009; LL.M., Georgetown University Law Center, 2018
Awards & Honors
Security Fellow, Truman National Security Project, 2019; Next Generation Fellow Center for New American Security, 2019; Featured in KU Law Magazine, Up-and-Coming: Young Graduates Achieving December 2014 Success Early in Their Careers; Featured in Huffington Post, Top 10 Muslims Who Save Lives August 2013
Faculty Advisor
Lama Abu-Odeh
Areas of Study
Comparative Constitutional Law
Jomana is writing about ethno-sectarian political identities and their impact on constitutional frameworks in Syria, Iraq, and Bosnia. She serves on the Syrian Constitutional Committee, appointed by the United Nations Special Envoy Geir Pedersen to serve on the Civil Society Group. She is currently the head of the Syria portfolio at the Atlantic Council's Rafik Hariri Center. Until July 2018, she was a Senior Policy Analyst at the U.S. Commission on International Religious Freedom where she covered Syria, Iraq, Egypt, and Turkey. Prior to that, she was a Senior Analyst at Caerus Associates where she managed the Syria atmospherics project for USAID's Office of Transition Initiatives. Jomana also served as a Senior Research Assistant and Publications Manager for the Project on U.S. Relations with the Islamic World in the Center for Middle East Policy at the Brookings Institution where she focused on Syria, Egypt, Palestinian politics, and Islamist movements. From 2010-2012, Jomana worked at the law firm of Winston & Strawn in Washington, D.C. focusing on intellectual property cases.
Jomana co-founded Syria Relief and Development, a humanitarian organization that has provided over $92 million worth of aid in Syria and the region. She is a member of the Truman National Security Project and the Arab Constitutional Law Society.  She previously served as Commissioner for the North Carolina Commission of Inquiry on Torture as well as a 2019 Next Generation National Security Fellow at the Center for New American Security.
Women's Quotas: Making the Case for Codifying Syrian Women's Political Participation, William & Mary Journal of Race, Gender, and Social Justice
Assad Needs the United States and Its Allies for Reconstruction
What Will Happen If the United States Leaves Syria?
Iraq Brief: Winter 2017, U.S. Commission on International Religious Freedom POLICY UPDATE
Opinion | In Syria, grass-roots activists hold the key to the future
Unlocking the Alawite Conundrum in Syria, The Washington Quarterly
Center for International Trade and Agriculture (CITA)