Orientation 2023: 1,000+ New 'Hoya Lawyas' Arrive on Campus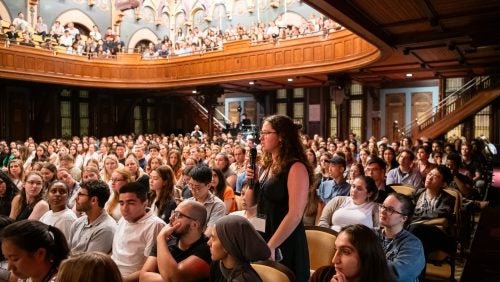 By any measure, the entering 1L class at Georgetown Law this fall is impressive.
Intelligent: holding a record-high median college GPA of 3.91 and a record-tying median LSAT of 171. Diverse: 59% women, 35% students of color and 10% first-generation college students. Competitive: 600 members selected out of 10,828 applicants. And geographically rich: for the first time ever, the 1L class includes students from all 50 states, as well as 14 foreign countries. Including the 510 new LL.M. students, this year's incoming students represent 76 different nationalities.
But the new students are far more than a collection of numbers. In his welcome address, Dean William M. Treanor reminded students that they were each selected for their unique resumes and individual qualities.
"We want to hear all the voices," he said. "We want a law school that represents everybody who can make a difference in the world."
THINKING LIKE A LAWYER
Orientation began Monday, August 21 for graduate programs and Tuesday, August 22 for the J.D. program. Throughout the week, new students toured campus, met professors who gave them a preview of classroom expectations and began to learn some Georgetown Law lingo – for instance the various acronyms of the career services teams: OCS for private sector jobs, OPICS for public interest work, OGC for guidance for LL.M. students.
A session new to the orientation offerings this year was "Beyond the Briefs: Respectful Dialogue as a Core Competency in Legal Practice," organized by the Office of Equity & Inclusion, in which panels of more seasoned students spoke frankly of how they'd learned to manage conflicts with classmates or professors productively by welcoming opportunities to gain insight into different points of view or to negotiate toward common ground – skills they will be using throughout their careers.
At the annual Faculty Moot Court, held this year in the historic Gaston Hall on Georgetown University's main campus, faculty members displayed some brilliant lawyering as they previewed how opening statements and oral arguments might go in United States v. Rahimi, a Second Amendment case to be heard by the Supreme Court this term. Visiting Professor Mary McCord, L'20, Executive Director of the Institute for Constitutional Advocacy and Protection, played the role of U.S. Solicitor General, Professor Michael Gottesman represented Zackey Rahimi and the panel of justices included Dean Treanor and Professors Paul Smith, Michele Bratcher Goodwin, Julie Rose O'Sullivan and Irv Gornstein, Executive Director of the Supreme Court Institute.
RISE 2023
103 J.D. students also participated in a pre-orientation week organized by RISE, the Law Center's program for students who may have had less exposure to the legal profession before applying to law school. The schedule included mock classes and exams, sessions on career planning and financial aid and opportunities to connect with peer mentors and bond with new friends over meals and at a game night.
Lijin "Summer" Dai, L'26, said she applied to RISE not only because she doesn't have any lawyers in her family, but also because she grew up in Beijing, China and is still learning how the legal system works in the United States. "This is a completely new world for me," she said. After the pre-orientation, she felt less intimidated and glad to have started building a supportive community. "I feel so welcome here," she said.
Another RISE fellow, Nicholas Fox, L'26, who started a streetwear business with friends before coming to law school, said that while he enjoyed the game night and the visit to the courtroom of U.S. Magistrate Judge Zia M. Faruqui, C'01, L'04, his favorite part of the week was the Civil Procedures class taught by Professor David Vladeck. "That might sound kind of nerdy," he acknowledged, "but having to get into a routine, do readings, get an idea of what conversations are like with an actual professor and take a mock test at the end was really a good idea." Now, he's excited to be starting on his long-held dream of law school and to using what he learns to further his entrepreneurship in the future.
WELCOME TO THE NATION'S CAPITAL!
Students also had the chance to explore their new home. There were sightseeing tours of official Capitol Hill with Chief Operating Officer David Mao, L'93, and historic Capitol Hill neighborhoods with Professors Peter Byrne and Greg Klass; a morning jog to the National Mall; a service project at the nonprofit DC Central Kitchen; a visit led by Jewish Chaplain Michael Goldman, L'69, to the nearby Capital Jewish Museum's exhibit on the late Supreme Court Justice Ruth Bader Ginsburg; a trip to U Street with leaders of the Human Rights Institute to celebrate the 65th anniversary of Ben's Chili Bowl and hear about the civil rights history of the area; and an excursion to the site of the future 11th Street Bridge Park on the Anacostia River with leaders of the Environmental Law & Policy Program.
As ever, the Law Center's graduate program includes many newcomers not only to Washington, D.C., but to the United States. Of the 510 new graduate students starting this fall, 399 were internationally trained – the highest number ever.
At one of the orientation receptions, a group of LL.M. students who all hail from India gathered to compare notes. General Legal Studies student Parth Khurana, L'24, said he'd chosen Georgetown Law because of the externship programs he hopes might lead to an opportunity to work in the U.S, and International Business and Economic Law student Preethi Gowda, L'24, added that she'd been drawn by the many professors with experience in international organizations. "I'm keen on a career at the United Nations," she said.
READY FOR CLASS
Orientation wrapped up with a festive block party on the campus' central Eleanor Holmes Norton Green. Students combated the late-August heat and humidity with cold drinks and ice cream bars, chattering animatedly about the week they'd had and the semester ahead.
Acting Director of Student Life Hannah Ward said she felt her team had met its goal of showing off everything the Law Center has to offer and helping students start getting to know each other. "Now, get involved! Come to the student organization fair on September 13th, follow your own path – and get out and explore D.C.," she advised.
Incoming evening program students Janie Immanuel Longman, L'27, and Crystal Boodoo, L'27, bonded over the many similarities they'd found between them. Immanuel Longman, who works in trade regulation compliance and Boodoo, a forensic accountant, traded notes on balancing their day jobs and their law school courseloads. "I already have a color-coordinated calendar!" said Boodoo. Immanuel Longman acknowledged that although she knew it would be an intense few years, she was looking forward to the kind of professional opportunities her colleagues with law degrees have. "It's really nice to be able to keep your job," she said.
Catherine Allen, L'26, a recent graduate of Florida State University, said that after the jam-packed week, she felt prepared for school to start. "It really helped calm a lot of my concerns," she said of orientation.
Allen echoed Dean Treanor's words when asked why she had chosen law school in general and Georgetown Law in particular.
"I want to make a difference," she said.